Tree of Life synagogue shooting shows need for TEMS teams
Tactical emergency medical support medics were able to get to victims of the Pittsburgh shooting quickly and render aid
---
By Allison G.S. Knox, faculty member at American Military University
A combat veteran will tell you a firefight can happen in a surprisingly short amount of time. The same is true in active shooter situations.
It's critical, therefore, that emergency response is on the scene as quickly as possible to apprehend the shooter and save as many lives as possible. That's why tactical emergency medical support (TEMS) teams are a critical component of any emergency response.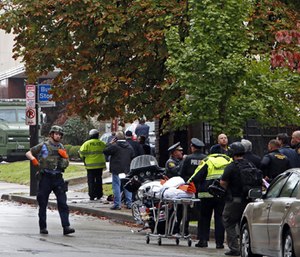 The synagogue shooting timeline
According to CNN, the first 911 calls reported an active shooter at the Tree of Life synagogue in Pittsburgh at 9:54 a.m. Officers were dispatched to the scene one minute later. Within minutes of their arrival, one officer was wounded and an unknown number of worshippers were dead.
What ensued lasted about an hour, while officers worked to secure the scene. CNN reported one tactical officer was quickly able to reach a victim, demonstrating the importance of tactically trained personnel.
In all, 11 worshippers were slain and four police officers were wounded.
The need for tactical emergency medical support teams
Most towns and cities have excellent teams trained in tactical response, particularly within law enforcement agencies. Whenever a situation is particularly dangerous, these teams are dispatched to the scene with the appropriate ballistic protection. More importantly, they know precisely how to react to an active shooter situation because of their extensive training.
However, many municipalities do not currently have TEMS teams. It's no wonder that the American College of Emergency Physicians has urged the creation of more TEMS units across the country.
First responders trained in TEMS can enter a zone almost immediately to tend to the wounded. These units are known to provide a high survival rate and work well with SWAT teams.
As the frequency of active shooter incidents continues to rise, more and more municipalities will need to create TEMS teams. This will allow communities to be better prepared should an active shooter incident occur in their jurisdiction.
TEMS teams are an increasingly important part of public safety. They help to provide a healthy and safe environment for both law enforcement and the public.
About the author
Allison G. S. Knox is a faculty member at American Military University, teaching courses in Emergency and Disaster Management. Her research interests are comprised of emergency management and emergency medical services policy issues. Prior to teaching, Allison worked in a level one trauma center emergency department and for a Member of Congress in Washington, D.C. She holds four Master of Arts degrees in emergency management, international relations, national security studies and history. She is a certified lifeguard, MET and is also trained in technical large animal emergency rescue. Allison currently serves as advocacy coordinator of Virginia for NAEMT, chapter sponsor for the West Virginia Iota Chapter of Pi Gamma Mu International Honor Society, and faculty advisor for the Political Science Scholars. She is also on the Board of Trustees and serves as chancellor of the Southeast Region for Pi Gamma Mu International Honor Society in the Social Sciences. She can be reached at IPSauthor@apus.edu. For more articles featuring insight from industry experts, subscribe to In Public Safety's bi-monthly newsletter.