Suicide frequency and prevention in EMS: Caring for the caregivers
More than half of the attendees at the EMS World Expo panel have had a co-worker die by suicide
---
LAS VEGAS — A panel of EMS leaders, all personally impacted by the suicide death of a co-worker, described the scope, potential causes and possible interventions for emergency responder suicide in a moderated panel at EMS World Expo.
In the opening of the session, moderator Dave Page asked the audience, "How many of you have had a member of your agency die by suicide?" More than half of the attendees in the session raised their hands.
Each panelist shared their experience with emergency responder suicide, important resources for support, like employee assistance programs, and the difficulty of understanding the scope of the problem. Employee assistance programs should be available for every EMS provider through self-referral or enrollment, recommendation from a co-worker and supervisor ordered.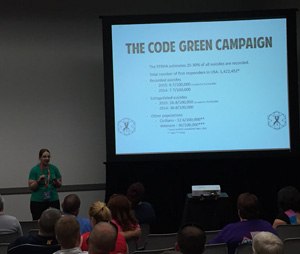 Members of the audience shared experiences and asked questions of the panelists.
Memorable quotes
"The suicide rate in first responders is higher than in the general population and on pace with the rate of suicide in the military."
Ann Farina, President of the Code Green Campaign
"We need to wake up, pay attention, take down the shame, and talk about this."
Jay Fitch, PhD, Fitch and Associates
"Asking someone if they are considering or contemplating suicide does not plant an idea. It creates an opportunity to give help."
Dave Page, Prehospital Care Research Forum
Key takeaways
The presenters, as well as members of the audience, contributed these important points:
There is absolute need for a robust, internal peer support team.
Plan for an escalation of behavioral health resources for an EMS provider in crisis.
Stories give people a chance to see what others have gone through and share what they have experienced.
Emergency responders don't seek help due to concerns about perceptions from co-workers and supervisors. Too many responders report being shamed and belittled for disclosing stress and mental illness.
Employee assistance programs, especially with personnel who understand emergency responders, are critical for every organization.
A multitude of resources should be available.
Locally, look to colleagues in fire and law enforcement, as they may have already established processes to deliver peer support and created resources for emergency responders.
Include EAP and other wellness information, like addiction counseling, in the new hire training process.
Important questions to be answered
Much of the discussion led to questions that need to be answered.
How is a line of duty death different from an employee death?
What is the role of leaders to bear the brunt of or be recipients of employee anger?
How can the actual scope of the problem be quantified? The numbers tracked by the Code Green Campaign and Firefighter Behavior Health Alliance is an estimated 25 percent of responder suicides.
What can be done to improve initial training and ongoing training about stress and mental health?
Jay Fitch concluded the presentation by calling on attendees to increase their knowledge, review current resources available in your department, increase discussions and raise awareness, train managers and supervisors to pay attention to suicide warning signs, ramp up intermediate strategies, and budget for long-term solutions.