Video: N.Y. woman pleads guilty to stealing ambulance after driving it into water
Vanessa Armstead was rescued from Irondequoit Bay last year, but the ambulance sank
---
By Leila Merrill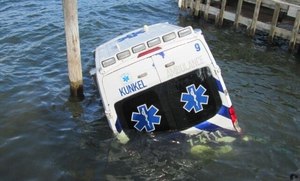 UTICA, N.Y. — A Buffalo woman who stole an ambulance last July and crashed it into the Irondequoit Bay pleaded guilty to second-degree grand larceny on Thursday, WKTV reported.
Vanessa Armstead drove the Kunkel ambulance after she was released from St. Elizabeth Medical Center following a car crash. A police pursuit ensued.
After she crashed the rig into the water, Armstead was rescued. The ambulance sank.
She will be sentenced in August and is facing three to nine years in prison, according to the district attorney's office.