Mandating the morale
Do you want someone that is tired and angry on the front lines representing your department?
---
Anyone that has worked in public safety knows that getting the phone call late in the evening or early morning from your supervisor that they must require you to stay because of a call-off, unfilled vacation shift or other similar staffing need completely ruins your day. In departments where morale is already compromised, mandating your employees only compounds this issue and creates an angry workforce.
Other professionals, like airline pilots, long-haul truck drivers and medical residents have national standards for the number of hours that can be worked. EMS does not have this same standard. In many agencies and departments around the country, because of the staffing crisis, clinicians can work many shifts in a row.
A report released in August 2019 by the National Highway Transport Safety Administration, showed that fatigue is a threat to the safety of the clinician, their patients and the public. The project findings have the potential to bring about positive change for the EMS community. There is no other equivalent effort from any other high-risk industry/occupation to improve worker fatigue.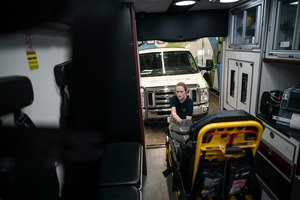 The National Association of State EMS Officials recommends limiting shifts to less than 24 hours and studies have found longer shifts are linked to higher rates of injury and poor performance.
Christopher Prener, a sociologist at Saint Louis University, who has prehospital EMS experience as an EMT, spoke on EMS overtime in a Govtech.com article.
"Relying on holdovers as a default strategy is a concerning practice," Prener noted, adding EMS agencies sometimes address staffing issues by leaning more on EMTs, who require less training, or using a commercial service to fill vacancies. Short staffing is a chronic issue in EMS nationally and addressing it means facing the ultimate issue of pay.
"People like OT in part because they're being exploited. So preference for OT is actually a kind of logical response to poor working conditions," Prener said.
Regardless of your belief, EMS is patient care and customer service driven. Do you want someone that is tired, angry and upset that their plans have been ruined on the front lines representing your department? I think that most responsible leaders would agree that this is not the ideal candidate for their public relations team. How can a department change this?
Budget changes
Departments and agencies are going to be paying more in the long run by paying clinicians overtime when they are held because of a staffing issue. These steep increases in the personnel budget are likely not accounted for and may cause other programs to be sidelined or lost completed. Managers should focus on maintaining an adequate workforce, while minimizing overtime.
Recruitment and retention
Managers and leaders should spend time at college programs, community events and state-run training programs to recruit potential new hire candidates. Managers have set a precedent with the level of care that their departments provide, meaning ALS or BLS units. In some demographics, as part of the contract, EMS agencies are required to have a set number of ALS units and BLS units. Managers should not downgrade units or level of care because their staffing for ALS clinicians is limited.
Managers should direct their efforts to retain their dedicated clinicians who are overworked, fatigued and stressed. By maintaining an adequate work force, it will allow your dedicated staff to feel less stressed and rest. Additionally, it will decrease the animosity that might be felt when they are mandated to work, sometimes several shifts in a row.  
Politics
People are familiar with term limits for elected officials. But political officials responsible for providing EMS service should be aware what their department managers are doing. By continuing to review the best EMS practices, budgets and staffing, elected officials need to ensure that they have the most appropriate person leading an EMS agency while not compromising patient care, patient and employee safety. In some cases, a chief officer may need to be replaced or redirected to meet the mission and vision of an organization.
Schedule changes
By performing internal reviews of patient care records or computer aided dispatch data, managers can see high call volume geographical locations, times of day and days of the week. This information is vital in deploying the most appropriate resources in each area. With this information, leaders may need to change their scheduling format from 24-hour shifts to 12-hour shifts with a mid-shift to ensure the public is protected.
Setting egos aside
When a leader sees a problem, such as staffing, increased mandates and morale issues, they should take a long hard look at their management styles and abilities. It may be time for them to re-evaluate their position and potentially have other, more experienced staff review policies and procedures to ensure that they are keeping patient care, and patient and employee safety a priority.
---

Listen for more:
Getting to the black with David Fifer
EMS educator proposes a system that includes recognition for certified and degreed paramedics alike to overcome staffing crisis
---