Street medics say they tried to save Portland shooting victim
The two street medics said police forced them away from the scene
---
By Laura French
PORTLAND — Two street medics say they tried to save a man who was shot and killed during protests in Portland on Saturday. 
Sierra Boyne and Matt Robbins, who say they volunteer to treat anyone injured during protests, heard gunshots and then saw the victim lying on the ground, Robbins told KPTV.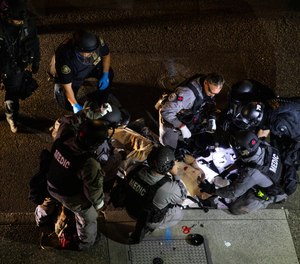 Robbins said the pair was attempting to aid the victim when police rushed onto the scene and began pushing them down. 
Boyne also wrote on social media that she was beginning to examine the victim when police pushed her and used their batons to force the street medics away, according to Oregon Live. Boyne said the man was alive when she left the scene and estimated he was pronounced dead about 20 minutes later. 
Photos taken by an Associated Press freelance photographer show police medics working on the victim. 
"Portland Police officers heard sounds of gunfire from the area of Southeast 3rd Avenue and Southwest Alder Street. They responded and located a victim with a gunshot wound to the chest. Medical responded and determined that the victim was deceased," the Portland Police Bureau said in a statement. 
The police department later identified the victim as Aaron J. Danielson, 39. Danielson was a member of the right-wing group Patriot Prayer that was part of a caravan of President Donald Trump supporters demonstrating in Portland on Saturday, according to the Associated Press. Black Lives Matters supporters counter-protested the caravan, the AP reported. 
A suspect has not been identified in the shooting. Portland police are investigating.