Fla. EMS providers treat, transport seriously injured shark bite victim
Monroe County Fire Rescue took the patient to an airport, and she received a blood transfusion during an air ambulance flight to Miami
---
Gwen Filosa
Florida Keys Keynoter
MARATHON, Fla. — A shark attacked a woman in the Lower Keys on Wednesday, leaving her seriously injured, state wildlife officers said.
She was airlifted from the Keys to a Miami-Dade hospital and is expected to recover, said Jason Rafter, a spokesman for the Florida Fish and Wildlife Conservation Commission.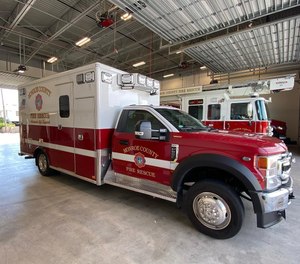 "We confirmed it's a shark bite," Rafter said Friday. "It's not a boating accident."
The woman was bitten on her leg, he said. The attack happened in Niles Channel near the Tarpon Belly Keys, while she was swimming with her family.
It wasn't immediately clear Friday what type of shark bit the woman. FWC would not release her name or a full report Friday.
A full incident report will not be available until after the Fourth of July holiday, Rafter said.
Monroe County Fire Rescue responded to the emergency Wednesday afternoon, finding a woman with a "large laceration" on her leg, said county spokesman Kristin Livengood.
She was in stable condition when she arrived at the hospital in Miami-Dade, Livengood said.
The woman, who Livengood said is in her 30s, had jumped off a boat and surfaced with the leg injury.
"Those aboard the boat applied pressure and a tourniquet to prevent more bleeding," Livengood said in a press release.
During the flight, the woman received a blood transfusion.
Fire Rescue set up at a Summerland Key restaurant with water access and took the patient to the Summerland Key airport, where she was airlifted by the county's Trauma Star helicopter air ambulance to Miami.
According to the Florida Museum of Natural History's International Shark Attack File, which tracks annual shark bites worldwide, most shark bites happen in the United States, and Florida is the state where most of the encounters occur. The sharks most responsible for biting people in the Sunshine State are typically smaller species that mistake human limbs for prey and seldom inflict life-threatening injuries.
Still, the attacks remain rare in Florida, particularly in the Keys, and most come along coastal beaches. Florida had 28 shark bites last year, none fatal. Volusia County topped the list with 17 shark bites, followed by Brevard, Miami-Dade and St. Lucie counties — all with two bites each, according to the ISAF.
The last person killed by a shark in Florida was Stephen Howard Schafer, 38, when he was kite surfing off a beach in Martin County on Feb. 3, 2010, according to Shark Attack Data. Investigators say a bull shark was most likely responsible for that attack.
In 2021, there were 47 shark bites in the U.S., and one — in California — was fatal.
On April 17, Easter Sunday, a man was bitten on the leg by a shark at a popular sandbar off Windley Key, the Coast Guard said. He suffered an eight-inch laceration on his lower leg.
___
(c)2022 the Florida Keys Keynoter
McClatchy-Tribune News Service