Paramedics want guns on duty. What comes next?
If every EMS incident needs a firearm, send the police, but also train paramedics and software to better predict, recognize and respond to violence
---
In a recent EMS1 poll that posed the question, "Should paramedics be allowed to carry guns on duty," a majority of poll voters – 59% – answered "Yes." This group was joined by 32% of voters who answered, "Only tactical paramedics working with law enforcement" should be allowed to carry guns on duty.
The overwhelming support for firearms in a public poll, using a convenience sample, likely speaks to several things.
First, gun rights supporters are often effective at mobilizing support for their cause. Second, a single poll question doesn't leave any room for nuance about the implications for training or responding. Responders who opted for the "Only tactical paramedics" option might have split evenly or unevenly to the "No" option if forced into a yes-no choice.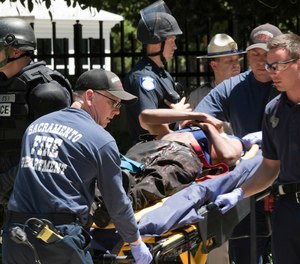 Third, and most interestingly, the results of the poll question speak to the enduring challenge of the scene size-up – the component of patient assessment that has changed the least in the more than 50 years of modern EMS. The hardware and processes to learn and communicate pre-arrival information to paramedics about the patient's condition or scene risks is about the same as the experience Johnny and Roy had in "Emergency!."
Paramedics regularly explain in emails, article comments and social posts that they want to carry a firearm for self-protection or self-defense. But what are the underlying reasons paramedics feel that the option for lethal force is needed on every EMS call?
What's the EMS role in violent situations?
EMS has accepted, with minimal pushback, roles and responsibilities that seemingly should belong to law enforcement or other healthcare professionals. EMTs and paramedics who arrive before law enforcement or even with law enforcement are expected to recognize a violent situation and diffuse violence without the training, experience, tools and policies that police officer have at the ready.
EMS providers have also accepted the responsibility of transporting medically stable patients with behavioral health emergencies between facilities. A Californian man, who may have been suffering from mental health issues, was struck and killed on an interstate highway after jumping out of an ambulance. He is alleged to have slipped out of restraints and pushed past the attendant to open the ambulance's rear door. Reports of psych patients attacking the EMT or paramedic, jumping from the ambulance or stealing the ambulance are regularly reported. We are seemingly choosing to offer this transport service in the face of known risk of death or injury to patients and providers.
What's the appropriate training for violent encounters?
Perhaps the overwhelming support for arming paramedics is the wake-up call that EMS leaders and educators need to highlight that field providers feel woefully unprepared and undertrained for dynamic scene size-up and violent encounters.
Before open carry or concealed carry of a firearm in the patient care compartment, paramedics need expert-level skill through high-fidelity simulation and hands-on training at these skills:
Threat prediction and recognition
Rapid incident de-escalation
Evading and escaping violent encounters
What's the equipment kit for violent encounters?
A firearm is one part of the kit for violent encounters. Like a police officer, a paramedic carrying a firearm needs to be equipped with specific items:
Paramedics already carry a less lethal weapon – a dose of ketamine – but need a tool, like a TASER, that doesn't require being within arm's reach of the patient-turned-assailant.
What's the solution to improve pre-arrival information?
In a Denmark research study, artificial intelligence used speech recognition software to analyze the 9-1-1 call in real-time and to automatically dispatch paramedics and alert dispatchers if the patient was experiencing sudden cardiac arrest. The machine recognizes cardiac arrest faster and more effectively than a trained PSAP operator.
Another application of AI in EMS is to train the machines to use 9-1-1 call audio, dispatch information, previous location and caller history, and streaming audio and video to recognize the potential for violence and predict the probability of violence. The machine has the potential to give an early warning of violence and faster notification to task-saturated paramedics.
What are the paths ahead for arming EMS personnel?
If every EMS incident needs a firearm, then we ought to be sending the police, the use-of-force experts selected by our communities, on every EMS call.
I am not sure which of these paths is more difficult. One path is to equip every paramedic with a firearm, as well as body armor, and initial and ongoing training. A second path is to convince elected officials, public safety leaders and taxpayers that every EMS incident needs at least one firearm carried by a trained and authorized professional. The third path, the unacceptable status quo, is to continue sending paramedics to incidents based on antiquated technology for risk assessment and communication. And then counting on those paramedics to correctly assess a dynamic scene based on minimal training and a limited skill set for recognizing, defusing and escaping violence.
There are surely other paths. Add your ideas and input to the article comments or email to editor@ems1.com.