Ind. first responders warn of drug threats in public bathrooms
It appears that public bathrooms have become the place to carry out drug transactions, Fire Chief John Jark said
---
Bob Kasarda
The Times, Munster, Ind.
CHESTERTON, Ind. — Fire Chief John Jarka took notice late last week when an unconscious man was discovered suffering a suspected drug overdose in a public bathroom at the Thomas Branch of the Westchester Public Library.
It was not the first such occurrence in a public bathroom in the Duneland area, and Jarka said he has been hearing similar stories from his fellow emergency responders throughout the area.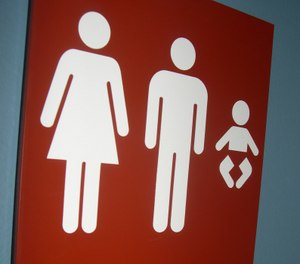 It appears that public bathrooms have become the place to carry out drug transactions, he said. Dealers leave the drugs behind to be picked up later by a customer, who may then use them on site.
Jarka said there is reason for the public to be concerned about this apparent trend. One of the places in the public bathrooms where drugs can be hid or used are the baby changing stations, which means parents have to be more careful than ever to wipe down all surfaces or put a barrier such as a diaper bag in place before laying a baby down to be changed.
"It's one of those things; the potential is there," he said.
Jarka said his department and other emergency responders undergo training on how to keep highly toxic drugs such as Carfentanil off their skin because of the potential for it to be absorbed. There was an incident in Lake County where a paramedic came in contact with a dry powder and had an adverse reaction that resulted in an overnight stay at a hospital, he said.
Porter County Sheriff Dave Reynolds has said Fentanyl, a synthetic opiate, is 75 times stronger than pure heroin. Fentanyl is mixed in with heroin, which he said has drastically increased area overdose deaths and put first responders at extreme risk.
Also at risk are employees of these public places, who are charged with cleaning the bathrooms and can easily come into contact with drugs or drug residue, Jarka said.
The incident at the local library was called in shortly before 4 p.m. Thursday, he said. The initial report was of an unresponsive man not breathing.
When the department arrived, the man was breathing, Jarka said. But due to the presence of drug paraphernalia in the bathroom, the opiate-reversal drug Narcan was administered, and the man was in much better physical health by the time he was taken away for further medical care.
Westchester Public Library Director Lisa Stamm said the same patron returned the following day, raising his voice, using obscene language and accusing the library of keeping the backpack taken by police. The library issued a no-trespass order that is valid for a year.
Jarka said his department responded to a similar call a few months ago where two people were found suffering from suspected drug overdoses in the bathroom of a fast food restaurant in town.
In March, a 24-year-old man was found semi-conscious on the floor of a bathroom at a nearby Porter truck stop, police said at the time.
The Crown Point man reportedly told responders "that he has a problem with drugs and wants the nightmare to be over." He said the incident was the seventh time in the prior 24 hours that he had used drugs and passed out, police said.
Just last month, Porter police said drug overdoses claimed the life of one man and sent another to the hospital within an hour of one another.
———
©2019 The Times (Munster, Ind.)
McClatchy-Tribune News Service