Ex-firefighter-EMT who hung doll with noose gets prison
Glenn Halfin was given the maximum punishment based on his guilty plea to the misdemeanor charge of interfering with an African-American family's rights
---
By Kevin Krause
The Dallas Morning News
FORT WORTH, Texas — A retired firefighter will spend a year in prison for tying a noose around the neck of a black baby doll and hanging it from a railing in front of his African-American neighbors' apartment.
Glenn Eugene Halfin, 64, of Grapevine pleaded guilty in July to a federal hate crime for his actions against his neighbors — Dante Petty, 28, his wife and their young daughter.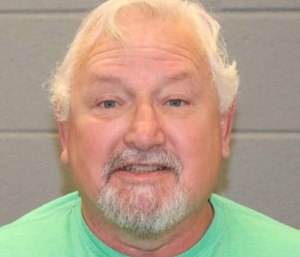 U.S. Magistrate Judge Jeffrey L. Cureton on Wednesday sentenced Halfin to the maximum punishment that was available based on his guilty plea to the misdemeanor charge of interfering with an African-American family's housing rights.
Cureton ordered Halfin, who is out on bond, to report to prison in 30 days.
Halfin bought the baby doll at a Walmart in Grapevine on Dec. 19, according to documents. He tied a rope into a noose and hung the doll with it from the railing "directly in front of the only staircase the family could use to access their apartment," according to court records.
"Halfin did so, knowing that this display would be particularly intimidating for the family who had a young daughter," court records say.
Halfin and his attorney declined to comment following the hearing.
"It's reprehensible," said Assistant U.S. Attorney Nicole Dana during the hearing. "It's disturbing."
Dana said Halfin hung a doll three different times near the victim's Grapevine apartment. She asked for the maximum punishment to show the community that such actions will not be tolerated.
Halfin, who used a cane, spoke briefly to Cureton, saying he was sorry. His sister, father and in-laws were present in the courtroom.
Petty was not in court on Wednesday and could not be reached for comment.
Halfin's attorney, Brook Antonio, said his client was involved in an ongoing dispute with his neighbors and acted out of "anger and frustration."
Antonio said the neighbors, who lived in the apartment above Halfin, poured urine and feces over their balcony, onto his client's porch. He said the neighbors also stomped on their floor.
"It's not a situation where he's a racist," Antonio said. "This incident is not who he is."
He noted his client's work as an EMT, firefighter and arson investigator and said he had a "long career serving the community."
Halfin has been in trouble with the law only once before — a drunken driving arrest from the 1980s, said Antonio. He asked the judge for probation for his client, saying Halfin has health problems and may not survive prison. Antonio also said his client's mother is sick and may not be alive when Halfin gets out.
Racism 'alive and real'
"The Justice Department will not tolerate acts of intimidation and fear, or illegal threats against any individual or family because of their race," said Acting Assistant Attorney John Gore, after Halfin's guilty plea. "We will continue to prosecute hate crime offenders."
"No one should be afraid to go home at night," U.S. Attorney Erin Nealy Cox said at the time. "Our community will not tolerate crimes of intimidation or bigotry, and my office will continue to prosecute all those who persecute others based on their race, color, ethnicity, or religious beliefs."
The December incident was the "culmination" of Halfin's repeated intimidation and interference with Petty and his family, according to court records. The noose "terrified" the victims and prompted them to call police, court records say.
Petty said in a Facebook post about the incident that he immediately began to have problems with Haflin after moving to the apartment in June 2017.
Petty wrote that it began with Halfin throwing eggs and dog feces on his car.
A video camera he put outside his apartment captured Halfin tying a rope around the neck of a doll and hanging it from a railing in December.
Halfin was arrested in January by Grapevine police and charged with stalking, Tarrant County court records show. He was later charged with threatening a person's housing rights due to their race or color.
Halfin was evicted by the Grapevine apartment complex in January.
Petty described the Dec. 19 incident in a January Facebook post.
"I just wanna show people that racism is very well ALIVE AND REAL," he said in the post. "Thank God I put a camera up outside my apt because when I saw this man hanging a doll off the rails I was so fill (sic) up with anger I was ready to kill this man."
Petty said in the post that Grapevine police and the FBI got involved in the case.
"So I just wanna tell people my story and say Please Stay Awake Out here!!!" he said in the post.
The FBI says hate crimes are its civil rights program's highest priority, "not only because of the devastating impact they have on families and communities, but also because groups that preach hatred and intolerance can plant the seed of terrorism here in our country."
Texas has a hate crime law that allows punishments to be enhanced if judges or juries decide that an offense rises to the level of a hate crime.
The James Byrd Jr. Hate Crimes Act was passed in 2001 — named for a black man from East Texas who was dragged to his death by three white men behind their pickup in 1998.
Copyright 2018 The Dallas Morning News
McClatchy-Tribune News Service