Clinical scenario: Patient with multiple trauma
You are dispatched to a report of a male patient struck by a pickup truck in a crosswalk
---
Medic 17, Engine 44 respond Code 3 for an auto vs. pedestrian at the corner of Main and Fulton. We have multiple callers reporting significant injuries.
You arrive on scene to find law enforcement with several bystanders attending to a male patient lying in the road. As you walk up, it is apparent that the patient has suffered significant injuries. He appears unresponsive as you approach.
The law enforcement officer on scene indicates that the vehicle was traveling approximately 45 mph when the patient was struck. The driver states that he did not depress the brakes before the collision. The officer states that the truck has hood and windshield damage from where the patient was struck.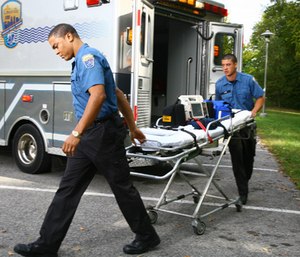 Kneeling next to the patient, you find that he is only responsive to painful stimulus. He has snoring respirations which resolve with the placement of an OPA. At that point, his respiratory rate is 24 and shallow. Your partner places the patient on oxygen.
What are the next steps in your assessment? Consider the following questions:
What type of physical exam should you perform? Why?
When and where should that assessment be performed?
What are some pitfalls in these situations?
Post your answers in the comments and view the solution for this scenario.