Paramedic chiefs learn to apply the 'Model for Improvement'
To accomplish EMS clinical and operational improvements leaders need to articulate a clear aim
---
LAS VEGAS — EMS leaders and paramedic chiefs learned an improvement model to apply to operational and clinical care improvements in their organizations.
David M. Williams, PhD, led the workshop "Enhancing Prehospital Care Systems with the Science of Improvement" at EMS World Expo. Improvement science used in EMS, like other areas of health care, needs to be based on the scientific method and focus on measurement, testing and achieving ambitious aims.
Williams is an improvement advisor and on the faculty of the Institute for Healthcare Improvement. He used lectures, discussions and experiential learning projects to introduce attendees to the "Model for Improvement" which asks: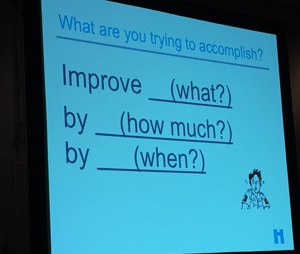 What do we aim to improve?
How much will we improve?
When will we complete the improvement?
"A project's aim statement should be actionable, important, and within an accomplishable time frame," said Williams.
After writing aim statements the participants shared their statements with the group for discussion and refinement. An aim statement is an expression of what the project seeks to accomplish. The statements shared illustrated the wide range of opportunities for improvement in EMS agencies everywhere.
Improving survival from witnessed cardiac arrest
Creating a peak-demand response vehicle for inebriated, person-down in public
Applying the Situation, Background, Assessment, Results/Recommendation (SBAR) method to improve the quality of patient care report narratives
Dispatching processes better match patients that need ALS care to ALS units
Acquiring and transmitting 12-Lead ECGs as part of a cath lab activation
Many of the proposed projects discussed by the group involved a change in process and an ensuing discussion was had on the accomplishment of a new process 100 percent of the time. "Simply putting a new process into place will get to 80 percent compliance," Williams said. "With some effort we can move towards 90 percent. Getting to 95 percent requires significant effort."
In the remainder of the session the participants learned more about measures, change through interventions, and applying the plan-do-study-act cycle. An app, which explains the Model for Improvement, is available for iOS and Android devices.