2017 EMS Trend Report: Revealing changes in clinical care, finance and use of technology
EMS1 and Fitch & Associates take an in-depth look at EMS trends in the United States and set a foundation for assessing how the EMS profession is changing
---
EMS1 and Fitch & Associates have released the 2021 EMS Trend Report Survey to identify industry challenges and opportunities. Participate in the 2021 EMS Trend Report: Take the survey
By Jay Fitch and Greg Friese
We are in the midst of a transformative period for prehospital health care. The only thing we can be sure of in the months and years ahead is change and uncertainty. Is your agency an industry leader, even with the pack or on the verge of irrelevance?
The second year of the EMS Trend Report continues the effort of EMS1, Fitch & Associates and the National EMS Management Association to assess and monitor changes in the EMS profession. We surveyed a cohort of EMS agencies – representative of different service models and geography – about clinical care, operations and the future of the EMS profession.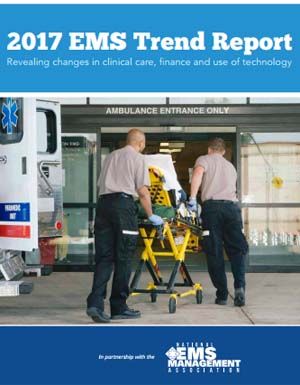 Use the report findings comparing 2016 to 2017 to see where your agency stands amongst the EMS Trend Cohort and get a glimpse into how those agencies are changing. In addition, we examine the critical need for fatigue management to reduce risks to patients and providers, as well as the importance of adopting a consistent identity for the profession. A panel of EMS physicians and leaders discusses the most interesting findings of the 2017 EMS Trend Report, how those findings might be best applied and what we might expect to see in future years.
Share this trend report with other paramedicine leaders. Discuss the findings and send us your thoughts on how EMS is changing to editor@ems1.com.