Introduction to medication-assisted opioid dependence treatment for EMS
Most chronic illnesses, including opioid dependence, are managed through treatment and not cured
---
MILWAUKEE — An addiction treatment specialist shared important opioid dependence considerations for emergency response providers during the drug overdose and addiction summit at the Wisconsin EMS Association conference.
Jeffrey Junig, MD, PhD, shared historical and clinical information about opioid dependence as well as what he has learned working half-time at a methadone clinic in Wisconsin.
Junig compared types of treatment programs for opioid dependence. Traditional treatment follows the steps of detox, active treatment and maintenance. In abstinence-based programs, patients go through an environment change, learn coping strategies and make plans to maintain sobriety. Abstinence programs usually include group and individual therapy and don't include any medications.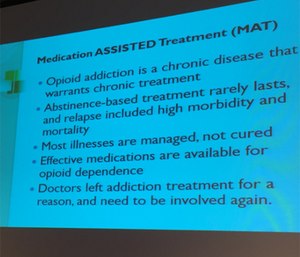 The harm reduction approach recognizes that people die in the quest for abstinence. This approach doesn't require total sobriety and uses a variety of interventions, including medication-assisted treatments.
Medication-assisted treatments, like methadone, try to find an area of comfort without illicit opioid use for the patient between withdrawal symptoms and overmedication. A methadone treatment regime at Junig's clinic includes an initial phase of 90 days, regular drug tests and successful promotion into a take home program allowing patients to receive two or more daily doses when they visit the clinic.
Memorable quotes
Junig began his medical career as an anesthesiologist before completing a psychiatry residency. His professional knowledge and experience was complemented by his own experience as an opioid addict. Here are memorable quotes from Junig.
"It takes two months to feel better after stopping opioids."
"I want them (patients) on something to keep them alive."
"There may be combinations of treatment that work, but there isn't crossing over."
"Medication-assisted treatment. It's never just the medication."
Key takeaways on opioid dependence
Here are three takeaways from Junig's presentation.
1. Problem caused by health care, but not always
Opioid dependence is most often an iatrogenic problem that begins with a prescription for a painful condition, like a back injury. Explosive increases in opioid demand parallels increasing emphasis on pain assessment and pain management since the early 1990s. However, Junig increasingly encounters patients who report heroin as their first opioid.
2. Opioid addiction has a high relapse rate
The reason that people have a high relapse rate after opioid addiction treatment is not totally clear. Junig offered several reasons for a high relapse rate. Opioids give a user a feeling of comfort, which along with withdrawal syndrome makes it especially difficult to recover from addiction and leads to relapse.
3. Medication-assisted treatment for opioid dependence
This treatment acknowledges that illnesses are managed, not cured, and that medications are available for opioid dependence. Medication-assisted treatment has the goal of reducing injury and death.
Methadone is used in a highly-regulated program. Methadone reduces cravings and removes the benefit of IV use of opioids. A patient who relapses while on methadone is given immediate counseling. The daily regime of methadone is believed to encourage compliance and stability.
Buprenorphine (Suboxone) is a partial agonist that activates and blocks opioid receptors. It eliminates the opioid high. Junig treats patients with buprenorphine for as long as the patient is at risk for overdose.
Junig acknowledged that treating a drug with a drug is a controversial practice, but a compelling option because it prevents death from opioid overdose. He also emphasized several times that medication-assisted treatment should also include counseling to address the underlying cause of addiction.
Learn more
Check out these articles to learn more about addiction.