Baltimore stabilization centers hope to solve heroin crisis
Nearly 23,000 people in Maryland have been certified to dispense naloxone and reported administering it more than 600 times since a 2013 law expanded access beyond medical professionals, according to health officials
---
By Jean Marbella and Meredith Cohn
The Baltimore Sun
BALTIMORE — She is another harried mother, on her way to pick up her child at school on a recent afternoon but with one more errand to run — to a van parked on a Southwest Baltimore street where city health workers give out clean needles to heroin users.
The woman trades 125 used syringes for new ones, and asks for more of a drug that she's been given to revive fellow heroin addicts if they overdose. She says that her last Narcan kit was stolen.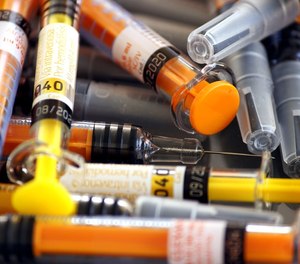 "Look at it this way," says Derrick Hunt, the needle exchange director. "Maybe they'll use it."
That addicts would be armed with new needles and Narcan to make their heroin use as safe as possible is just one sign of a shifting public health strategy to fight a deadly crisis.
The van program, which began on a much smaller scale amid controversy in 1994, has grown to dispense 1.2 million needles a year as well as free tourniquets, cotton balls and small metal caps in which to cook heroin.
And as early as next year, Baltimore's health commissioner, Dr. Leana Wen, hopes to open a "stabilization" center where addicts can be taken to sober up and get referrals to treatment and other services. The addicts — many of whom now end up in hospital emergency rooms or jail — also would receive food, clothing and a shower.
Desperate to control the steeply rising number of fatal overdoses and weary of what some consider a failed war on drugs, public health officials and lawmakers are increasingly turning to a harm-reduction approach and away from a prosecutorial one. By accommodating rather than punishing addicts, the aim is simply to keep them alive so that they can be steered toward treatment eventually.
As home to an estimated 19,000 users, and with a more entrenched history with heroin than some parts of the country, Baltimore has become a laboratory for dealing with substance abuse.
It was one of the first cities in the country to offer a needle exchange and, a decade later, to provide Narcan through a program called Staying Alive. The programs have been hailed as helping to reduce the spread of HIV and, at least initially, with reducing overdose fatalities.
Since then, however, heroin deaths are on the rise again — not just in Baltimore but nationwide — fueled by cheaper, more potent heroin flooding into the country and addicts switching to heroin from more expensive prescription opioid pills such as oxycodone.
Detractors contend that giving addicts drug paraphernalia, Narcan and a safe place to sober up is simply a form of triage. They prevent infections and reverse overdoses but do not solve the overarching problem of addiction.
This year, Maine Gov. Paul LePage vetoed a measure to make the Narcan antidote, generically known as naloxone, easier to dispense, saying it perpetuates a cycle of addiction.
"Naloxone does not truly save lives; it merely extends them until the next overdose," LePage said.
Paramedics often revive the same people repeatedly, according to Mark Fletcher, deputy director of the city's Emergency Medical Services. They will hand out a card with information about drug treatment, but cannot force the addicts to go.
"It's usually not in the same day, but I've used it on the same people," Fletcher said. "You can't force someone into recovery."
Measuring the effectiveness of Narcan and other programs for addicts has proved difficult.
For example, nearly 23,000 people in Maryland have been certified to dispense naloxone and reported administering it more than 600 times since a 2013 law expanded access beyond medical professionals, according to health officials. But data on how often naloxone is used, and on whom, is incomplete, as those who have been trained to administer the antidote might not notify health officials when they have given it.
Still, lawmakers continue to make naloxone and other public health measures the centerpiece of their fight against overdose fatalities. In Maine, for example, the legislature quickly overrode LePage's veto.
In Baltimore, Wen has sent her staff to scores of venues — even to lines at polling places on primary election day — to offer training and certification in using naloxone. She created an online certification and has issued a standing order allowing pharmacists to dispense it to anyone — essentially writing a prescription for the more than 600,000 city residents.
In May, the U.S. House of Representatives passed a bill introduced by Rep. John Sarbanes, a Maryland Democrat who represents parts of Baltimore, to encourage doctors who prescribe opioids to patients to also provide a second script for naloxone.
The efforts go beyond naloxone. As part of a sweeping criminal justice reform measure, the Maryland General Assembly this year shifted resources from imprisonment and toward treatment for drug offenders.
Del. Peter A. Hammen, a Baltimore Democrat and chairman of the health committee, helped engineer a sale of $3.6 million in bonds to build the stabilization center in the Brooklyn neighborhood of South Baltimore. Proponents are still seeking contributions from hospitals, foundations and public funding sources to cover the estimated $3.2 million in annual operating costs.
Del. Dan K. Morhaim, a physician and Baltimore County Democrat, would go further — he introduced a bill allowing health departments and other organizations to open medically supervised facilities where addicts could inject drugs in a safe environment. He ultimately withdrew the measure after failing to garner support from colleagues.
Other areas in the country have floated the idea, but for now, Vancouver, British Columbia, is the only North American city with such a facility.
Public health officials say they need to better connect with addicts to get them help.
"We've done a lot better than a lot of other places as a result of Staying Alive and other programs that we've implemented," Wen said. "But we are only treading water unless we can get people into treatment."
Dr. Robert Schwartz, medical director of the Baltimore-based Friends Research Institute, which studies addiction and mental health, said no single measure but a combination of them will be needed to finally stem the heroin crisis.
"There are a lot of moving parts to the opioid overdose death rate. You can't say one part is going to solve the problem," he said. "It's like many problems, it's multifaceted, so you need a multifaceted approach.
"At the end of the day, it's up to the (addict)," said Schwartz, who headed drug treatment programs for the Open Society Institute in 2004 when it funded the Staying Alive program. "But if you're dead, you're not going to be able to change your behavior."
The heroin crisis is worsening, with fatalities rising dramatically in Maryland since 2010. Last year, 748 people died of heroin overdoses, more than triple the number in 2010.
Other opioids are proving deadly as well, particularly fentanyl, a powerful painkiller being manufactured in illicit labs and often mixed with heroin. In 2015, 340 people died of fentanyl overdoses, nearly double the number the previous year and 12 times the number killed in 2012.
Amid the latest efforts to reach addicts, the city hopes to open the stabilization center in Brooklyn.
"People need someplace to go, 24/7, if they are intoxicated," said Adrienne Breidenstine, vice president of policy and communications for Baltimore Behavioral Health System, a nonprofit working with the city Health Department to develop and run the center. "Now they go to the hospital or jail, and that's not the most cost-effective or appropriate place for what they are experiencing."
Annual operating costs are expected to reach $3.2 million. So far, officials have a pledge of $600,000 over three years from the Maryland Health Resources Commission. Officials hope hospitals will help fund the center, because more addicts would be diverted to the center instead of busy emergency rooms.
Carmela Coyle, president and CEO of the Maryland Hospital Association, said her members need more information on how they would benefit. "We are interested in the concept and the project, but we need more details for folks to say this makes a lot of sense," she said. "What no one wants to do is begin to fund something that isn't sustainable."
Drug addicts and alcoholics who receive referrals at the center would be followed by caseworkers for 30 days, ensuring that appointments are made and kept. "We don't want them to just walk out with a referral," Breidenstine said.
San Antonio, Houston and San Francisco have similar centers, though they are primarily focused on alcohol addiction.
Amy Knowlton, an associate professor at the Johns Hopkins Bloomberg School of Public Health, said her research shows that up to 60 percent of EMS calls in Baltimore involve drugs and alcohol. State corrections officials say that up to 70 percent of detainees brought to Central Booking are inebriated.
But many addicts, including those who have been revived with naloxone, routinely reject hospital care and drug treatment, Knowlton said.
"We really tried to explore if there was potential to get people into treatment once they were revived by EMS providers or had some medical crisis," she said. "What we found was that it takes more than that approach. … The combination of a near-death experience and counseling on the spot was not enough. That's where the stabilization center comes in."
At the center, she said, addicts might be more open to getting treatment once they have slept, eaten, showered and been shown compassion.
State spending overall on substance-abuse programs is expected to reach more than $150 million in fiscal year 2017, a more than 12 percent increase since 2008, according to Jordan More, a policy analyst with the Department of Legislative Services. Those figures do not include Medicaid funding, which in fiscal 2017 will be about $194 million, More said.
Funding has increased in recent years, More said, as a result of the Affordable Care Act making more money available for substance abuse treatment and efforts such as the state's heroin task force addressing the growing number of overdose fatalities.
Funding for the center, Narcan and the needle-exchange program is small by comparison. The state spent about $1.3 million on naloxone in fiscal 2016, and the city's needle and naloxone program costs about $1.1 million a year.
A heroin addict arrives one night at a van parked on The Block, a collection of downtown strip clubs, with a confession: She had just relapsed.
Anne Sawyer, an epidemiologist with the Health Department, asks her a series of questions to assess risky behaviors and how often she uses. Eight to 10 times a day, the woman responds in a small voice.
"So 60 (needles) should do for a week?" Sawyer asks, going on to offer her bleach to clean the needles, other paraphernalia and condoms.
The woman mentions wanting to get on methadone, a substitute drug meant to reduce the symptoms of withdrawal from heroin. Sawyer starts to offer her a referral but sees something in the woman's eyes and decides against it. "Not right away," Sawyer says with a nod.
Despite or maybe because of the sheer volume of needles dispensed from the vans, business is transacted as dispassionately as in a grocery store.
"Long or short?" is the paper-or-plastic question here. Clients can get boxes of new needles in their preferred length, and most users are in and out quickly. Since October 2014, they do not even have to bring used needles to trade one-for-one.
Sometimes staff members remind the users that they can be trained to use naloxone or get a referral for drug treatment. They realize that addicts operate on their own timetable.
"This is a nonjudgmental program," said Hunt, the needle exchange director.
Starting with just two locations in 1994, the vans now can be found at 16 sites during 24 regular time slots every week. Their services have expanded as well. On Thursday nights on The Block, they offer contraception, testing for STDs, and pregnancy and other gynecological services, often to dancers on break from the strip clubs.
Baltimore is the only jurisdiction in the state to offer addicts clean needles, a still-controversial concept. It was only this year that Congress lifted the ban on using federal money for such programs.
The vans' clients say they are met with disdain and outright hostility elsewhere — in the emergency rooms when they seek treatment for problems such as abscesses from injecting, or at the drugstores when they try to buy syringes.
In the vans, it's different. And several addicts said they hoped their naloxone training would give them the opportunity to help someone else.
Those who work in addiction say that is a powerful sentiment — to feel that for all your own failings you might still help someone else. And that in turn can lead to personal benefits. Several studies have shown that addicts trained to use naloxone have decreased their own drug usage and were more likely to enter treatment.
"It empowers people," said Dr. Phillip Coffin, who directs substance abuse research at the San Francisco Health Department. "That agency helps them recognize the danger of their own use."
Susie McGuire said she decided to take the naloxone training after seeing a man she thought had overdosed in an alley in Pigtown several months ago. As McGuire got closer to the man, who was face-down, she saw flies buzzing on him. Paramedics told her he had been dead for several days.
"Most people just leave them," said McGuire, 42. "I would never do that."
Even as McGuire imagines herself rescuing someone, though, she seems unable to help herself. Like other heroin addicts, she had abused prescription pills but eventually could not afford them and made the switch.
Bit by bit, McGuire lost pieces of her former life — jobs in restaurants and real estate flipping, a waterfront home in Middle River. She overdosed once, about 1 1/2 years ago, regaining consciousness to someone kicking her in the ribs and a friend crying in fear. She thinks it was fentanyl.
McGuire says she's down to injecting three times a day, not enough to get high but enough to avoid withdrawal. "You're sick half the time if you don't keep the drug in you," she said. "It's just for me to be normal."
These days, she stays with different friends in Baltimore, although she recently learned of a room she can rent for $10 a day. It has Berber rugs, she says wistfully.
But she doesn't want to move there until she gets clean, at some indefinable point in the future.
Steve Nutter prowled an alley in Baltimore a couple of years ago until he found someone to sell him heroin. He injected it right there, and the next thing he remembered was waking up to see paramedics looking down at him.
They had administered naloxone, which attaches itself to the same parts of the brain that receive heroin and other opioids. By blocking the dangerous drugs, naloxone can reverse an overdose that has depressed the person's breathing.
"I came out of it with like a rush. You're laying there and then you sit up kind of abruptly," the 32-year-old said. "It's all so bright. Everyone is looking at you like a ghost."
Nutter's brush with death, however dramatic, failed to provide a scared-straight moment. Instead, he refused to be taken to the hospital and returned home — at the time, a townhouse without utilities in Charles County. He took a "shower" from a neighbor's garden hose.
Less than six hours later, he injected more heroin.
This has long been the objection to making naloxone widely available — that by taking away the risk of drug use, you also take away one of the reasons to discontinue it.
But Nutter's case is typical, health experts say, in that addicts frequently relapse before they find their way to recovery, and without naloxone, some would never get there.
Several months after his rescue, and a couple of more arrests, Nutter says he hit bottom and decided to kill himself. "I put on all dark clothes and planned to step in front of a moving car," he said.
But he was unable to bear the thought of his mother cleaning up the mess he'd made of his life. At a court date on a drug charge, he was given one of the charity spots the Ashley Addiction Treatment facility reserves for those without insurance.
He spent a month at the Havre De Grace facility, taking Suboxone to ease off heroin and receiving counseling. He has been sober 16 months, works as a cashier in a Bel Air restaurant and is rebuilding the trust his family lost in him during his addiction. He's grateful for the second chance he received in that Baltimore alley and strongly supports efforts to increase access to naloxone.
"Train everyone," he says.
Coffin, the San Francisco-based researcher, said that naloxone, detox and treatment all might have to be used multiple times over the course of a user's addiction. Addiction is not a disease with a one-time cure, but rather a chronic condition that has to be dealt with over time.
"Dead addicts don't recover," Coffin said. "It's our role as a humane society to give our citizens a chance to improve their health."
Coffin has researched the cost-effectiveness of naloxone distribution and its impact on mortality rates. As detailed in a paper published in the Annals of Internal Medicine in 2013, he and a colleague developed a model to predict the effect of distributing naloxone to 20 percent of heroin users, based on what is known about the population from previous research.
Ten percent to 25 percent of users overdose each year, for example, and those who overdose have a four to-five times higher risk of overdosing again. Twenty percent of those who overdose will enroll in treatment within 30 days, and half of users will relapse within five years.
He concluded that naloxone distribution is cost-effective and reduces mortality — by more than 6 percent in his admittedly conservative model. In real life, some cities have found greater reductions.
Baltimore health officials at the time credited the Staying Alive program with helping to reduce the number of heroin deaths after it was introduced in the city.
But more recently, heroin fatalities have been rising again. Since 2011, when 76 people died of heroin overdoses in Baltimore, the number of deaths in the city has risen every year, to 260 last year.
"The numbers are still going up. This harm-reduction model is obviously proving to be unsuccessful," said Mike Gimbel, former director of Baltimore County's substance-abuse office.
A recovered heroin addict, Gimbel believes that naloxone and treatment drugs such as methadone and Suboxone fail to change behavior, and that officials should instead build long-term residential treatment facilities, perhaps using former mental hospitals.
For Bertha Madras, a former deputy drug czar, what happens after naloxone is administered doesn't get near enough attention.
"Naloxone can save lives, and saving a life is paramount," said Madras, a professor of pyschobiology at Harvard Medical School who served as a deputy director in the White House Office of National Drug Control Policy under President George W. Bush.
"But the expanding anonymity of naloxone rescues is also a concern, if we care about individuals' lives after resuscitation," she said.
Rescued users need a full medical assessment to determine what they need next as far as medication and treatment, she said.
"Unless some of these strategies are available immediately after overdose," Madras said, "many people have, and will, or willingly, continue to fall through the cracks."
———
©2016 The Baltimore Sun
McClatchy-Tribune News Service