5 Pa. municipalities left without EMS after ambulance service closes
The ambulance service gave the municipalities a 90-day notice but had to close earlier than expected
---
By EMS1 Staff
WESTMORELAND COUNTY, Pa. — A Pennsylvania ambulance service has closed permanently.
Laurel Valley Ambulance Service said it had to close earlier than expected after giving the municipalities a 90-day notice, as it no longer had the staffing to respond to calls, according to WPXI.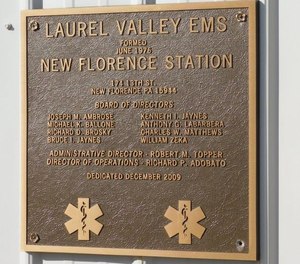 "I think it's terrible, for me and my wife – I've used one [ambulance]," said Vince Decker of New Florence, one of the municipalities affected, to WPXI. "Where is it going to come from?"
The ambulance service said it was responding to about 34 calls each month but would need to answer more than 100 per month to break even on costs.
New Florence Mayor Neva Gindlesperger said the borough has coordinated with West End Ambulance, which has a station about 11 miles away, to cover the community.
The other municipalities affected are Seward, St. Clair Township, Fairfield Township and some areas of East and West Wheatfield Townships.
One concerned Seward resident told WPXI about a recent ambulance call for his wife.
"The ambulance came from the West End, and it took almost a half an hour to get to our house," Jason Mesler said. "If it was something life-threatening, then she could have been dead."