5 top EMS innovations presented at NAEMSP meeting
In a memorable and entertaining presentation, Dr. Brent Myers described the top changes in EMS
---
SAN DIEGO — Top EMS innovations were presented by Brent Myers, MD, at the National Association of EMS Physicians annual meeting. The list, influenced by recent EMS events and the provider and systems trends, was delivered with an evangelical fervor, tinged with moments of humor. Here are the 5 top EMS innovations Myers shared with the audience of physicians and paramedics.
1. Responding to the active assailant
The tenor of mass shootings changed in 2015. Myers indicated that EMS systems must now be capable of rapidly managing a minimum of five critical victims, from scene to emergency department. Moreover, the growing presence of improvised explosive devices has made the situation for the first responder much more dangerous.
2. Real health care reform
After years of political bickering, major steps in health care reform were implemented in 2015. With reimbursement now being shifted from volume-based services to value-based propositions, hospital providers have a fundamental pressure to partner with local EMS agencies to provide more effective and measurably better services.
3. Narcotic dependence and overdose
Deaths from prescription narcotic overdoses are rapidly climbing. "We cannot overstate the case for public access naloxone," said Myers. However, he cautioned that how the media and advocacy groups frame saves from public access naloxone can create a tracking nightmare.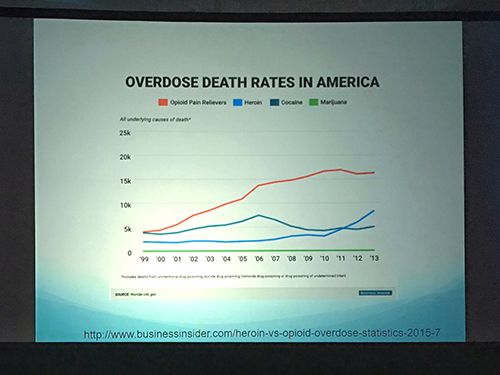 A slide from the NAEMSP presentation showing overdose statistics for the U.S. (Photo by Arthur Hsieh)
4. EMS advocacy
While the EMS Field Bill failed to make its way through the legislative process, "Protecting Patient Access to Emergency Medications Act of 2015" (H.R. 4365) which reduces onerous restrictions to controlled substances by EMS providers, has gained traction and needs support from providers to get it passed by the Congress.
5. International outreach
2015 saw the NAEMSP provide education and form partnerships with organizations in Cuba, Mexico and Taiwan. These efforts will promote better understanding and awareness of the practice of emergency medical care across the world.
Myers also gave a heartfelt shout out to newly retired NHTSA EMS Chief Drew Dawson, describing him as a "mentor and friend" to many of the participants in the audience.