PACE 2019 preview: Canine-facilitated mental health initiative
Delray, a 5-year-old Labrador Retriever, is the star of PAWS, a canine-facilitated peer support program for EMS providers in Alberta, Canada
---
The Paramedicine Across Canada Expo 2019 will be held in Winnipeg Manitoba, Canada, from Sept. 19-21. Register for the conference on the PACE website.
At the Paramedicine Across Canada Expo (PACE) 2019 conference, attendees will have the opportunity to listen to several experts speak about advances in emergency services medicine. From new technology to non-traditional paramedic care and leadership practices, PACE 2019 plans to offer a variety of diverse sessions about prehospital care.
One of the most noteworthy guests is just 5 years old. 
Delray, a 5-year-old black Labrador Retriever, will join his handler, Erica Olson, on stage at PACE 2019. Olson, an advanced care paramedic with Alberta Health Services EMS, is the program coordinator for Psychological Awareness and Wellness Support (PAWS), the first professional canine-facilitated peer support program for EMS providers in North America.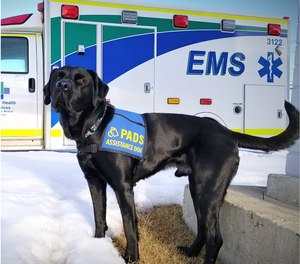 "Delray was purpose-bred," Olson said. "When he was born, he had a temperament that had been selected for this work. He had high trainability and was prepared to work in hundreds of environments."
When a PAWS meeting is requested, Delray and the team have numerous treatment options available – whatever makes sense for the crew member.
"It's whatever the member wants, if [they] want to go for a walk and lay on the grass and just play with Delray, that's great," Olson said. "Sometimes, members want to practice tools like meditation, or they want to talk about what's bothering them in their workplace, and that's an opportunity for me to listen and offer resources that are accessible, so it's very variable. Delray and I can adapt to a lot of the needs of the staff."
The PAWS program launched in October 2017 and is one of several mental health initiatives created by the Psychological Health and Safety Committee (PHSC), which was formed to respond to the increase in psychological injuries in EMS.
The PAWS team travels with Delray around Alberta, visiting with EMS crews and providing the kind of emotional comfort that only animals can provide, according to Olson.
"I've had a love of animals since I was very young, and I've always noticed that the connection was really restorative for me," she said. "Once I was working on PAWS, the idea of being able to share that with people really appealed to me, and the idea of actually supporting my peers was kind of like, the best, you know?"
The PAWS team makes scheduled stops throughout the province but is also available on a limited request basis. According to Olson, of the 1,200 EMS providers the team met with during the first year, 30% were requested.
"Sometimes, we get called out six times in one day, and then we won't have any other books for the rest of the week," she said. "We're one team for a whole province, so it's really difficult for us to meet the needs of what is roughly 5,000 staff."
Of the requested calls, the needs vary from a staff that has experienced collective trauma, to preparing crews to return to work.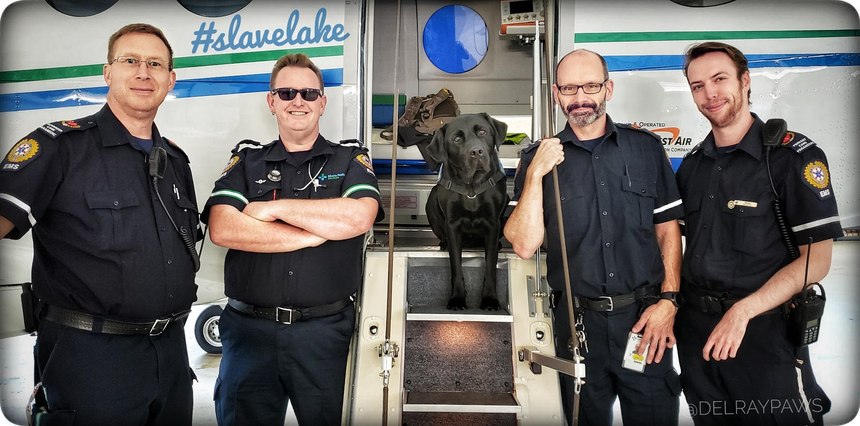 "We just received a request this morning, we're going to head out in a week and spend three days with staff that are going through a very specific return-to-work process that can be really stressful," Olson said. "Each staff member will have about an hour, whatever they want; it usually ends up being an hour walk [with Delray] and diffuse."
Olson hopes through presentations at larger venues, such as PACE, and general program awareness, other organizations across the country will be inspired by Delray and PAWS.
"If people are interested in this model, it can actually make peer support itself more appealing," Olson said. "Somebody that might not want to just meet with a human, they might want to meet a human with a dog. Psychological health is important, and the more we have education awareness, the more we decrease stigma, and stigma is a huge barrier to getting help."
Delray even has a choice in his employment – once he no longer shows the proper level of interest, he's allowed to leave the program behind.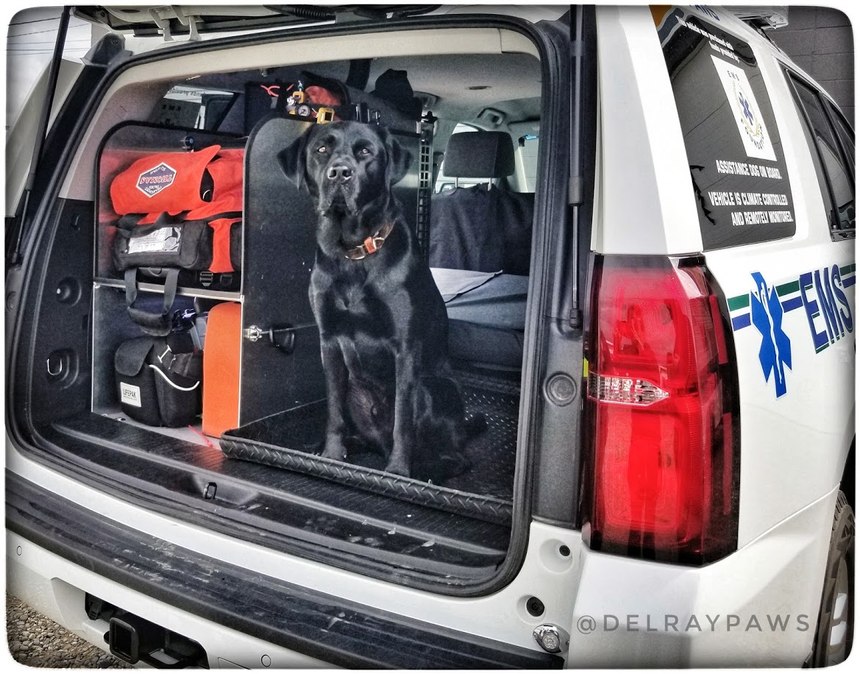 "If [Delray] demonstrated some behavior that he wasn't interested in this job anymore, there would be no pressure for him to continue doing it," Olson said. "So, the nice thing about it is that the dog has a lot of choice, and that can be tough when you're asking a vulnerable, non-verbal being to be part of the situation."
PACE 2019 will take place Sept. 19-21 in Winnipeg Manitoba, Canada. Visit the conference website to register. Learn more about the conference as Dwayne Forsman, CEO of the Canadian Paramedic Association, previews the upcoming sessions for Inside EMS co-hosts Chris Cebollero and Kelly Grayson.