Albuquerque Fire Rescue hires its first behavioral health director
Maia Dalton-Theodore will serve as the director for AFR's Firefighter Mental Health and Wellness Program
---
Elise Kaplan
Albuquerque Journal, N.M.
ALBUQUERQUE, N.M. — Albuquerque Fire Rescue has hired its first-ever behavioral health director to work with first responders, cadets and retirees to ensure they're getting the mental health support they need.
Maia Dalton-Theodore moved to New Mexico from Alexandria, Virginia, in early April and started her position with AFR almost immediately. She previously worked for the Fairfax County Fire and Rescue Department and the Fairfax County Sheriff's Department as a behavioral health coordinator.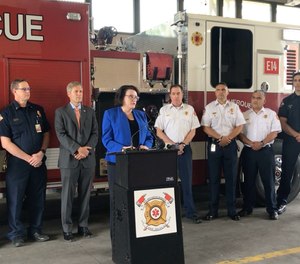 "I fully appreciate the personalities that are very unique to this workforce but also the daily challenges and traumas that these people experience," Dalton-Theodore said at a news conference Tuesday afternoon. "They are serving our community day to day. I look forward to continuing the ongoing mission of normalizing the ability to ask for help, reducing the stigma, and continuing the work around behavioral health in this department."
As the clinical and administrative director for AFR's Firefighter Mental Health and Wellness Program, Dalton-Theodore will train, educate and support peer support firefighters, do clinical assessments on first responders, refer them to clinicians and develop curriculums to address issues like PTSD, substance abuse and suicide. She said she will also work with cadets in order to foster a culture of asking for help from the get go.
Mayor Tim Keller referenced the fact that the Albuquerque Police Department already has behavioral health services to help officers cope with responding to traumatic and troubling situations.
AFR Deputy Chief Sean Frazier said when he first started working in the fire service "a long time ago" the prevailing attitude was firefighters should just "suck it up" if they have a taxing call. He said nationally, more firefighters are dying from suicide than while on-duty and AFR lost one of its own two years ago.
"Unfortunately in the fire service culture that's gone on for way too long," Frazier said. "So now to see that changing and to let our men and women know that if you are struggling, if you did have a hard time with that call we can help you or we can get someone who can help you."
Mayor Tim Keller and Albuquerque Fire Rescue introduce the first Behavioral Health Director for the department in light of Mental Health Awareness Month.

Posted by Albuquerque Fire Rescue on Tuesday, May 18, 2021
___
(c)2021 the Albuquerque Journal (Albuquerque, N.M.)
McClatchy-Tribune News Service