NY governor announces plans for monument honoring essential workers
A committee formed to provide input on the monument design includes representatives from FDNY and other first responder unions
---
By Laura French
NEW YORK — New York Gov. Andrew Cuomo has announced plans to build a monument in New York City honoring the service and sacrifice of the state's essential workers. 
The governor announced Tuesday that an Essential Workers Advisory Committee has been formed to provide input on the project, consisting of 23 representatives from trade organizations including FDNY and other first responder unions.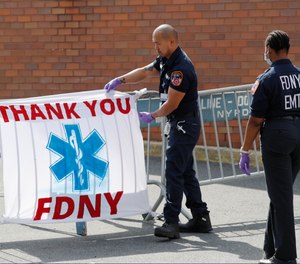 "There can be no way to ever fully repay the essential workers who aided in our recovery from this devastating, once-in-a-century pandemic," Cuomo said in a statement. "These true heroes continue to aid and inspire us and they have our utmost respect. To honor them, we want them to create a monument to stand for all time as New York emerges tougher and stronger than ever." 
The Essential Workers Monument will recognize 17 essential worker groups, including EMS providers, firefighters, police and corrections officers, National Guard members, nurses, doctors and other hospital staff.
Among the members of the Essential Workers Advisory Committee are FDNY EMS Local 2507 President Oren Barzilay, New York State Professional Firefighters Association President Sam Fresina, Police Conference of New York State President Richard Wells and New York State Correctional Officers and Police Benevolent Association President Michael Powers.