NY ambulance services: Governor's Medicaid cut could 'collapse industry'
New York Gov. Andrew Cuomo has proposed a Medicaid cut that has ambulance services nervous about the future of the industry
---
By EMS1 Staff
ROCHESTER, N.Y. — A proposed Medicaid cut by New York Gov. Andrew Cuomo has several ambulance services concerned about the future.
WHEC 10 reported that Cuomo's state budget proposal includes a Medicaid cut that would affect the elderly and low-income portions of the state.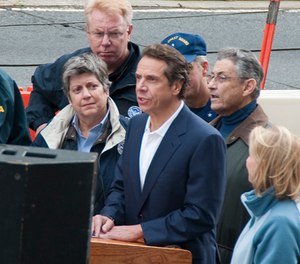 Currently, when an older, low-income citizen calls 911 for help, Medicare pays 80 percent and Medicaid pays 20 percent. The budget cut would eliminate the 20 percent payout from Medicaid.
CHS Mobile Integrated Healthcare Chief Reg Allen said that 20 percent would work out to a loss of $65,000 annually for his agency, which could mean cutting employees.
"It's a revenue loss, so like any other business, you have to figure out how absorb lost revenue," he said in an interview with WHEC. For smaller agencies, the Medicaid cut could mean closing the doors – for good, he emphasized.
The United New York Ambulance Network said the cut could cause the "collapse of the ambulance industry."
In 2017, the state of New York spent $40 billion on Medicaid payments, as one out of every three state citizens was eligible for Medicaid. While it's an expensive bill, according to Allen, the cut is coming from the wrong people.
"It's a cost-cutting measure, and you would think they wouldn't try to cut costs for people that are typically the most in need," he said. "You're talking about low-income elderly."
The deadline for the state budget is Sunday.