Union: Paramedic fired for recording patient was suffering from PTSD
The paramedic was one of the first responders on scene at the Pulse Nightclub shooting and the union claimed his requests for PTSD treatment had gone unanswered
---
By David Harris
Orlando Sentinel
ORLANDO — The Orlando firefighters union says the paramedic fired last week because he violated health privacy laws was suffering from PTSD after responding to the Pulse nightclub massacre and was not receiving the treatment he requested.
Josh Granada, who was one of the first responders to Pulse in June 2016, was terminated after he admitted to audio-recording a person during a medical call earlier this year and sharing it with co-workers.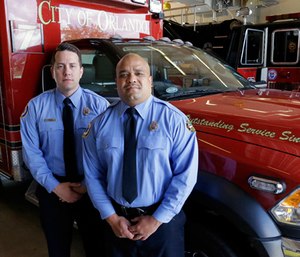 But the union said the situation would not have happened if Granada, a 10-year veteran, received treatment for post-traumatic stress disorder.
"This termination shows a complete lack of empathy and caring for members of the Orlando Fire Department by Chief Roderick Williams," union president Ron Glass said in a statement. "Granada … has repeatedly sought assistance and treatment for PTSD from the department. These requests were denied for months."
Ashley Papagni, a department spokeswoman, said she's still gathering information about Granada's case, but all employees receive "consistent messaging" that counseling is available through the Employee Assistance Program.
She said the city also offers firefighters, police officers and other employees various mental-health services.
"No firefighter was denied mental-health services," Papagni said.
According to an email released by the union, Granada asked in August why he wasn't receiving help.
"It has been well over two months since I reached out to the department for help," he wrote. "Two long months of waiting for something to happen while our administration has no sense of urgency or care."
Another email from a lieutenant to his bosses raised concerns about Granada's behavior after he was transferred to another station and mentioned "red flags."
On Aug. 27, Granada responded to a call at the DoubleTree hotel on Major Boulevard, near Universal Orlando.
He took out his phone and made an audio recording of the patient, according to the termination letter.
He then shared the recording with co-workers who were not on the call. By doing so, he violated privacy laws and OFD policy, the department said.
The patient was not identified but is an "elected official," the union said.
Copyright 2017 Orlando Sentinel