Retired medic reflects on 30th anniversary of Texas Luby's mass shooting
Robert Kelley was a paramedic with the Killeen Fire Department when a gunman killed 23 people and injured 20 more at an area restaurant
---
By Rachel Engel 
KILLEEN, Texas — On Oct. 16, 1991, a gunman entered a Luby's Cafeteria and opened fire on the patrons of the restaurant, killing 23 and injuring 20 others.  
Robert Kelley was a paramedic with the Killeen Fire Department, and one of the first on the scene, ABC 25 reported. He ran from the ambulance and into a ditch, covering his head as he could still hear shots being fired inside.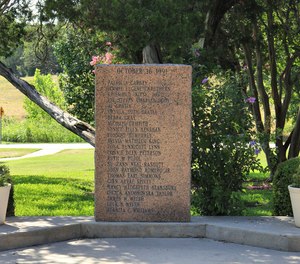 A man emerged from the restaurant and ran towards him, Kelley said.  
"He had been shot in the chest. It was fatal; I knew it was," he recalled. "But he looked at me right in the eyes and he raised his hand and said, 'Help me.' It almost crushed me because the only thing I could do was put him on a board and send him to the triage area." 
Once the gunman was neutralized and the scene safe to enter, Kelley entered the restaurant and began assisting the victims.  
"The first thing to hit me was the smell. The gunpowder, I could smell that, and I sort of froze for a couple of seconds," he said. "I just looked at the entire dining room … and went in a circle trying to assess everyone on the floor. Most were dead. And I took the green napkins and covered their faces." 
For many waiting for help, Kelley's face was the last one they saw.  
"I knelt down, and this guy was still breathing. I moved his head into a neutral position and tilted his head back," he said. "When I did that, he took his last breath. That sort of did it for me." 
Kelley is now retired but said he will never forget the events of that day.