New program creates team of N.Y. emergency doctors to respond to MCIs
An American Medical Response and UBMD Emergency Medicine partnership is designed to get trauma doctors to scenes of high-severity incidents
---
Jon Harris
The Buffalo News, N.Y.
BUFFALO, N.Y. — If a bus with 30 or 40 passengers crashed in Western New York, an on-call emergency doctor could hop in their fully outfitted Ford Explorer, switch on the lights and siren and speed to the scene to assist.
There, when seconds matter, the specialized doctor could quickly identify and stabilize patients with life-threatening injuries, while evaluating and treating on scene those with minor injuries — complementing first responders with clinical expertise while taking pressure off overburdened hospital emergency departments in the process.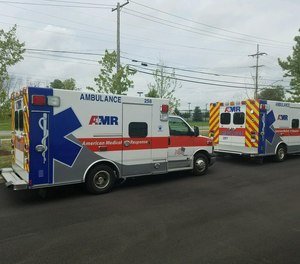 That's just one example of how a new program unveiled Thursday will work, a partnership between medical transportation provider American Medical Response Inc. and UBMD Emergency Medicine.
The Emergency Physician Response Program, which has been in the works for a few months, is designed to expedite treatment by getting trauma doctors directly to the scene of high-severity 911 calls and mass casualty incidents.
The announcement comes three weeks after a horrific shooting in which a gunman from the Binghamton area shot and killed 10 people and wounded three others at the Tops Markets on Jefferson Avenue in Buffalo.
"Sadly, this community understands the importance of having an emergency preparedness and response plan," said Scott Karaszewski, chief EMS officer at AMR. "While we continue to heal as a community, we need to constantly be thinking of ways we can better serve our community, and this program and this partnership achieves just that."
Erie County Medical Center's Emergency Department, as the region's Level 1 Adult Trauma Center, receives many patients from serious emergency situations, including the three victims who were wounded in the May 14 shooting and have since been discharged.
ECMC and other medical officials praised the new program, noting that trauma care is a team effort and that bringing emergency medical doctors to the scene could benefit Western New York patients for years to come.
The program also comes at no cost to program users or taxpayers and is fully funded by AMR and UBMD, with "no expectation of a financial return on investment," said Thomas Maxian, president of the Northeast region for Global Medical Response, which includes AMR.
Maxian did not disclose the total investment for the program, but it includes five fully equipped emergency response vehicles — Ford Explorers outfitted with advanced cardiac life support, basic life support, communications equipment and a refrigeration unit for medications.
The team will include UBMD EMS medical directors, EMS fellows at the Jacobs School, emergency medicine residents and regional EMS medical directors who will work on a 24/7 on-call schedule that will complement existing staffing within partner emergency departments. AMR said the dispatch process for the new team will be integrated within its current communications structure.
Dr. Johanna Innes, the program director of the fellowship in emergency medical services at the Jacobs School, said one of the vehicles will be assigned to Dr. Brian Clemency, a medical director for AMR of Western New York, two of the vehicles will be with fellows, one will be with a resident on their EMS rotation and one will be with EMS attendings like herself.
"The great thing about having so many vehicles is that availability will always be there, because we all work clinical shifts," Innes said. "So I obviously can't go to a call if I'm in the ER at ECMC, but if I'm in the ER at ECMC with my truck with me, there's still two fellows, a resident and Dr. Clemency."
The program also is noteworthy within Global Medical Response and AMR, the latter of which employs more than 28,000 people who transport 4.8 million patients each year across 40 states and the District of Columbia.
Dr. Edward Racht, chief medical officer of Global Medical Response, traveled from Texas for the occasion, noting the Western New York program brings together many different levels of expertise while also training future clinicians.
"This is, by far, the most integrated and coordinated field physician response that we have in all of our locations nationwide," he said.
It is not yet known when the program will get started.
Innes noted the team's physicians will have to go through extensive training to operate the vehicles, which will probably take a few weeks.
But once it is rolling, she is sure the unique program will help fill a major gap in the Buffalo area.
"Plus, it's free of charge," Innes said. "So it decompresses the ED, it decompresses AMR, and people still get care."
___
(c)2022 The Buffalo News
McClatchy-Tribune News Service