Essential supplies for MCIs
Determining what's essential for incident management, triage and mass casualty response training
---
Updated January 11, 2016
Where are the mass casualty supplies in your ambulance or first response vehicles? I am guessing they are tucked in a cabinet behind the back-up airway kit or obstetrics kit, like most infrequently used items. Am I right? With space at a premium inside the ambulance, these are important items for your mass casualty supply kit.
The first step in any mass casualty situation is declaring an MCI and initiating the incident command system (ICS). As this is done, the ICS personnel should don vests that are labeled with their position.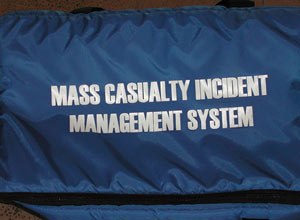 Vests should be highly visible with reflective marking. Since many MCIs occur on roadways make sure vests meet current ANSI guidelines for visibility. Some vest collections color code the vests by the function area in the EMS branch. For example, the transportation group supervisor might be assigned a green vest and triage group supervisor a yellow vest.
The next step for any ICS member is to review and understand the immediate responsibilities of their position. A job action sheet is a quick reference of the position's immediate and longterm tasks, span of control, and reporting responsibilities.
For example, the triage group supervisor leads triage teams and reports the number of patients to the EMS Branch Director (or Operations Section Chief or Incident Commander depending on the size of the incident).
A job action sheet is not the full mass casualty response plan for the agency. Instead it is focused on the accomplishment of specific tasks. Job action sheets can be laminated or in a clear plastic folder for durability and protection. Include a pen, grease marker, or a marker with the job action sheet depending on its format.
Depending on the size and duration of the incident, EMS professionals may need to deploy other incident management supplies. Colored flags, scene lights, cones, tarps, and tape can be used to designate different locations at the incidents. Two important areas to clearly designate are the incident command post and the patient treatment areas. Having a designated incident command post helps keep the incident commander stationary.
There are a variety of products for patient triage. Tags, wrist bands, and even different colors of surveyor's tape can be used to designate patient's triage category. A triage product should be durable, have a number or bar code system for patient tracking, and allow recording of basic patient demographic or assessment data.
Additional triage tag features to consider include tear-off portions to designate a patient's contamination status and a tag patient's belongings like clothing, bags, and other potential contaminated evidence. Also evaluate the current or future ability of the triage tag to integrate with an electronic record keeping system.
Pre-packaged or made-to-order Mass Casualty Supply kits are available for purchase. Another option is to make your own kit with a small or medium size duffle bag and then pack it with vests, scene supplies, job action sheets, and triage tags. Which do you use – pre-packaged or build-your-own?
What are supplies are essential for incident management? Share your experiences and ideas in the comments area.