Doctor recalls rushing to treat patients in synagogue shooting
Dr. Leonard Weiss jumped into action after realizing the sounds outside his home near Tree of Life temple were gunfire
---
By Sarah Reese
The Times 
PITTSBURGH — In the Tree of Life Synagogue's darkest hour Saturday, Munster native Dr. Leonard Weiss provided a ray of light.
Weiss, 33, grew up attending Congregation Beth Israel and graduated from Munster High School in 2003.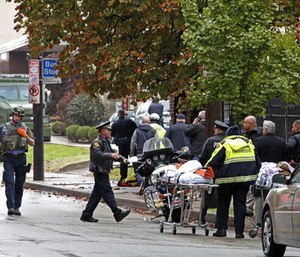 Now an assistant professor of emergency medicine at the University of Pittsburgh and an EMS medical director, Weiss jumped into action after realizing the sounds he was hearing Saturday outside his home near Tree of Life temple in Pittsburgh's Squirrel Hill neighborhood were gunfire.
"Given that the congregation was nearby — I had a bad feeling that that might have been the location of this event," he said.
Weiss is part of an established 24/7 physician response group, so he used his radio to call into the local dispatch center. A staging area was just down the road from his home, a dispatcher told him.
On the street, Weiss saw paramedics accompanied by a tactical team passing by, working to establish a post. Police escorted him to the staging area, he said.
Inside the synagogue, which houses three different congregations, a gunman had opened fire with an AR-15 rifle and other weapons during worship services.
Eleven people were killed and six people, including four officers, were injured before a tactical police team tracked the gunman down and shot him, The Associated Press reported.
It took a long time for police to determine where the gunman was, Weiss said.
Episodes of gunfire and engagement made it difficult to send in rescue teams, he said.
"They went in as close as they could to get to people, while they could," he said. "Unfortunately, while this unfolded — the majority of the victims, I think they died instantly."
Several police officers became patients when they were wounded in the gunfight.
"Some of the civilians in there were able to secure them one at a time, when able. Despite the fear of the assailant still being on the loose," Weiss said. "It was very tense trying to figure out where safety was."
Weiss, who gave interviews to several national news outlets in the wake of the massacre, has received an outpouring of support from the Chicago area, he said. His family and some of his dearest friends still live in Munster.
"That was our home, from a young age, going through the Munster school system," he said.
Weiss took a predominant interest in the sciences, but also had a passion for literature and theater throughout his high school and college years, he said.
His interest in the medical profession was born from a fear of bad things happening to people and a desire to do something about it, he said. His mother's death while he was still in college reaffirmed that motivation to help, he said.
Weiss and the paramedics he served alongside did their jobs Saturday, he said.
But the experience was overwhelming for him, he said.
"You can't ignore, you can't get away from the fact that this is your own block," he said. "The hot zone includes your own house, your own neighborhood and neighbors."
Weiss was not aware of the identities of the patients the day of the shooting, learning their names only after officials released the information Sunday. He knew of one of the victims, a fellow physician, but was not close with him.
"I feel tired," he said, reflecting on the tragic events. "I feel sad."
Though he was proud of the paramedics and tactical officers who responded, he also was disappointed they had to put their training to the test.
The most important thing anyone can do in a time of crisis is help another person, he said.
Fear can be overwhelming, but helping another to safety before medics arrive can make a difference, he said.
He also urged decision makers to support emergency medical services, particularly when it comes to federal funding.
"The amount of work that we do is so outrageously heavy compared to the match of support we get," he said. "It's a challenge to be on the bridge of health care, public safety and public health."
Subscribe to Daily Headlines
Copyright 2018 The Times 
McClatchy-Tribune News Service