LODD: Wyo. paramedic dies from cardiac arrest responding to crash
Wamsutter Ambulance Service Paramedic Mike Wilder was at the scene of a fatal car crash when he went into cardiac arrest
Duty Death: Michael Wilder - [Wamsutter, Wyoming]
End of Service: 01/11/2020
---
By Laura French
SWEETWATER COUNTY, Wyo. — A Wyoming paramedic died Saturday while responding to a car crash.
Wamsutter Ambulance Service Paramedic Mike Wilder went into cardiac arrest while working at the scene of the fatal crash, according to the Wyoming Fire Chiefs' Association.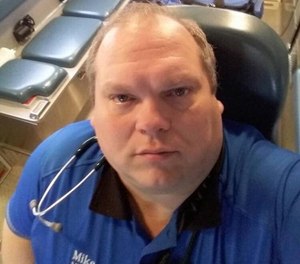 Wamsutter is a small town in Sweetwater County, about 70 miles east of the city of Rock Springs.
EMS agencies from across the county and state shared their condolences on Facebook.
"Our hearts are heavy about this news," Sweetwater Medics LLC wrote on Facebook. "We want to send our deepest condolences to our brothers and sisters just east of us and to the family and friends of Mike. Rest easy brother we will take it from here."
Read more: Fallen Wyo. paramedic was 'compassionate,' 'kind,' witness says