Ohio city may see ambulance reduction
Cleveland already has service brownouts due to low staffing
---
By Courtney Astolfi
cleveland.com
CLEVELAND, Ohio — Chronic staffing shortages at Cleveland's Division of Emergency Medical Services will likely lead to the reduction of two ambulances on city streets in the coming months, according to interim EMS Commissioner Orlando Wheeler.
Cleveland currently aims to have 25 ambulances deployed during the daytime and 21 at night, but Wheeler, during City Council budget hearings, said that target number would "probably" drop to 23 in the daytime and 19 at night, due to staffing issues.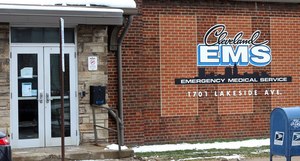 Finance Chief Ahmed Abonamah told cleveland.com/The Plain Dealer that the prior goal — of 25 ambulances during the day and 21 at night — was one that Cleveland hasn't historically been able to reach.
"We never had the staff in EMS to actually fulfill that aspirational target, so the reality on the ground does not change for the negative…We're not talking about a reduction of actual service," Abonamah said.
The possible change to EMS's deployment goals were among several developments shared with City Council on Wednesday during budget hearings for non-police operations in the Department of Public Safety, which includes fire, EMS and animal control.
The division of EMS is among the city departments included in Mayor Justin Bibb's strategy aimed at balancing the 2023 budget. Under that plan, the city is looking to stop setting aside money for some staff vacancies that it hasn't been able to fill for years.
For EMS, that means this year's budget proposal would allow for up to roughly 255 paramedics and emergency medical technicians, versus prior budgets that allowed for up to about 270. Under Bibb's budget plans, EMS would have the ability to hire about 15 more EMTs and paramedics in 2023, beyond the staff it already employs, Wheeler said.
But aside from Bibb's budget plans, current staffing levels are already leading to a reduced number of ambulances on the street, called "brownouts," said Safety Committee Chair Mike Polensek, who recalled a recent double shooting in his ward. In that case, two ambulances normally available on the city's northeast side were out of commission, which necessitated the deployment of ambulances stationed further away, near University Hospitals, he said.
Calling brownouts a growing problem, Polensek said he is aware of similar issues on the city's West Side as well.
"The majority of brownouts are due to staffing, period," Wheeler told Polensek. "But during those staffing shortages, we dynamically deploy units to cover those areas, so [there's] never an area that goes uncovered."
The division of EMS would presumably take the same approach if it were to permanently reduce by two the number of ambulances it seeks to make available at any given time.
Addressing the shooting incident in Polensek's Ward 8, Safety Chief Karrie Howard said EMS response time still stuck close to the average, in that one EMS crew arrived within nine minutes, and another arrived in just over 10 minutes. The most severe emergency calls in 2022 and in 2021 elicited an average EMS response time of just over nine minutes, council members were told.
After the hearing, Wheeler told cleveland.com/The Plain Dealer that the decision to reduce by two the number of ambulances wouldn't likely happen until the current cohort of EMS trainees graduate in a few months. At that point, if there are enough staff to maintain ambulances at the current target, the city may leave its existing deployment plan in place, he said.
Abonamah told cleveland.com that the change wouldn't result in longer wait times for ambulances, and would moreso reflect what's already been happening. He said brownouts have long occurred under the current deployment plan, so decreasing the target number of ambulances won't have much of a real-world effect.
And reducing the number of vacant EMS positions would, in Abonamah's view, likely help with filling other vacant EMS positions more quickly. That's because city leaders, as they did in 2022, won't be nit-picking individual hiring decisions out of concerns that too many new employees would lead to deficit spending, he said.
"My true hope is that with this more realistic budget…every division will be able to be more aggressive in recruiting and hiring, because we won't have that administrative concern of [whether] we are getting out ahead of ourselves," Abonamah said.
Meanwhile, Polensek and other council members were pleased to hear about a different budgetary development in the Division of EMS. Bibb's 2023 proposal, for the first time, set aside money for training paramedics. Cleveland EMTs are required to obtain their paramedic certification within two years of employment, but the city, until now, made them pay out-of-pocket for that roughly $5,500 expense, and complete it on their own time. That was at odds with other safety divisions, such as Cleveland police, who receive reimbursements for their mandatory training.
This year, Howard said, the city is providing up to $300,000 to reimburse EMS workers for paramedic training, Howard said.
During other portions of Wednesday's hearing, with the Division of Animal Care and Control, council members wanted answers on an issue of ongoing concern: groundhogs and other pest animals that wreak havoc, at times destroying porches and other property.
Animal Control Officer John Baird couldn't pinpoint the exact reasons behind what council members said was a rapidly growing problem, but he did say it's likely the population of such animals grew during the pandemic, when operations to remove them slowed down.
The Division of Animal Care and Control contracts with Critter Control to help get rid of the pests, but Council President Blaine Griffin pegged it as a serious issue that needs more attention and resources. Griffin indicated that council may consider adding more money for those operations before it finalizes the budget.
And in another portion of Wednesday's hearing, Howard announced a major change to the office of the police inspector general – a civilian position mandated by the city's consent decree with the U.S. Department of Justice and tasked with monitoring, reviewing and auditing police policies and practices.
The city hasn't had an inspector general since its first and only, Christopher Viland, resigned in 2021 to become Cuyahoga County sheriff, after a little over one year on the job. (Viland has since resigned as sheriff, and now oversees internal affairs for Cleveland police.)
Howard on Wednesday said the inspector general job would no longer be focused solely on police and will instead be tasked with investigating systemic problems in all Public Safety departments, including police, fire and EMS.
Howard said the move was intended to address concerns discussed by the DOJ's monitoring team and city about the former setup, in which the police inspector general answered directly to the police chief. Going forward, the inspector general will instead answer to Howard.
"The police inspector general was moved from being under the police, to being a public safety inspector general, being that … there's a potential conflict between the chief of police and inspector general," Howard said.
Cleveland's job posting to fill the long-vacant position was set to close on Thursday, Howard said.
It's unclear whether the change to the inspector general's duties is allowed under the consent decree.
Despite the added duties, the inspector general's budget is set to remain roughly the same as in prior budgets, and the city hasn't allocated money to hire additional helpers, beyond the one staffer already dedicated to assisting the inspector general in his or her duties.
©2023 Advance Local Media LLC.
Visit cleveland.com.
Distributed by Tribune Content Agency, LLC.
McClatchy-Tribune News Service