Calif. lawmakers unveil Harvey L. Hall Memorial Highway
"He was proud to represent our community," Assemblyman Rudy Salas said about the founder of Hall Ambulance Service and four-term Bakersfield mayor
---
Perry Smith
The Bakersfield Californian
BAKERSFIELD, Calif. — Harvey L. Hall, a man praised for his larger-than-life personality and a similarly sized love of Bakersfield, received another tribute Monday in a city full of reminders of his legacy.
State lawmakers unveiled the Harvey L. Hall Memorial Highway sign near the South Allen Road on-ramp to the eastbound lanes on the Westside Parkway, dedicating a stretch of road in honor of the city's longest-serving mayor.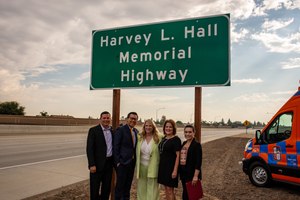 "He was an incredible cheerleader for this community and brought groups of individuals together from across party lines, socioeconomic lines, justice lines — it didn't matter," said state Sen. Shannon Grove, R- Bakersfield, shortly after the unveiling of the signage for Hall. "He was the mayor for everybody. And it's just an honor to be a part of this and be part of the legislation that brought this forward."
The road named in his honor stretches from the Coffee Road off-ramp, heading west, and to the on-ramp at Allen Road, heading east, according to Hall officials, who worked with legislators to create the privately funded honor.
Assemblyman Rudy Salas, D- Bakersfield, who worked with Hall as a councilman and then as a representative at the state level during Hall's four terms as mayor from 2001-16, also complimented the founder of Hall Ambulance Service for his dedication and bipartisanship.
"That's what I've always appreciated about Harvey is he didn't care so much about party affiliation as he was solving problems for the city. And he wore his emotions and the city on his sleeve," Salas said. "Everywhere you went, he was proud to represent our community."
Hall's seemingly modish sense of style also saw him wear some of the city's most conspicuous attire, another hallmark of his reputation, which he enjoyed as a way of showing how much he cared about the local events he attended, according to his wife, Lavonne Hall.
"Dressing for the occasion is how it kind of started," Lavonne Hall said, "and ... if he was at a Links for Life or a breast cancer awareness luncheon, he wanted the people to know that that was important to him."
And Hall certainly made his share of appearances. An obituary for the former mayor noted he was part of more than 10,750 certificates of appreciation, 1,800 proclamations and 958 ribbon-cuttings during his tenure.
In his first campaign for office in 2000, he began using the phrase "unity in our community," which became another hallmark of his career as a politician and a sentiment for which he was well-known.
Salas first introduced a resolution to honor Hall in August 2018, shortly after Hall's death, which initially was intended to designate the interchange at Highway 99 in his honor. After that bit of legislation was designated as inactive in November of that year, Assemblyman Vince Fong introduced Assembly Concurrent Resolution 64 last September. It ultimately passed unanimously in both the Assembly and the Senate.
Hall died May 19, 2018, at age 77 from a rare degenerative and fatal brain disorder known as Creutzfeldt-Jakob disease.
The ambulance company that bears his name and features the ubiquitous orange-and-blue vehicles that service about 94 percent of Kern County celebrated its 50th anniversary in February 2021. Hall's success in building the company afforded him the opportunity to support a number of initiatives that help Kern residents, many of which bear his name.
In recognition of his years of service, Hall, a member of the Bakersfield Hall of Fame, received an honorary doctoral degree in 2017 from Cal State Bakersfield. The Harvey L. Hall Plaza at the university's Icardo Center was named in his honor.
While mayor, he created an eponymous scholarship fund and donated all of his mayoral salary to support it, helping to raise more than a quarter-million dollars for local students. There's also a Harvey L. Hall Child Development Center on Stine Road, and a Hall Paramedic Academy, as well a Harvey L. Hall/Hall Medical Scholarship.
The Greater Bakersfield Chamber of Commerce's lifetime achievement award is also named after him, and the Bakersfield Firefighters Burn Foundation also created the Harvey L. Hall Community Partner Award.
___
(c)2022 The Bakersfield Californian
McClatchy-Tribune News Service