Wis. town gives gives ambulance personnel lock-box access
EMS personnel sometimes had to call out fire department personnel to gain access to a building
---
Jake Ekdahl
WiscNews
PRAIRIE DU SAC, Wis. — The Prairie du Sac Village Board approved an ordinance at their May 14 meeting that allows Sauk Prairie Ambulance personnel to access emergency keys to buildings.
Previously, only the fire department had access to the lock-boxes containing the keys. This meant EMS personnel sometimes had to call out fire department personnel to gain access to a building, even if fire department services were otherwise not needed on the call.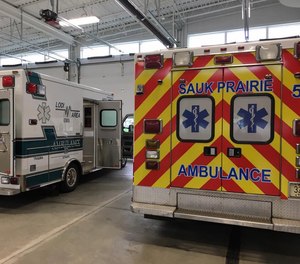 The lack of access also cost time, which can be critical during emergencies.
Like fire personnel, ambulance officials will have an identification number so there will be a record of who accesses the lock-boxes.
Village Administrator Alan Wildman said the Prairie Fire Department, Sauk City Fire Department and Sauk Prairie Ambulance are working to coordinate a seamless system between all three organizations so they can all have the same policies regarding the lock-boxes.
The ordinance was approved unanimously. Board Member Raymond Bolton was absent from the meeting.
The Village Board also approved a task order to have the engineering firm Strand Associates assess flooding preparedness in the village at the cost of $10,000. The move was prompted by the March flooding in the area.
"They're going to come up with some recommendations based on their assessment," Wildman said.
———
©2019 WiscNews
Distributed by Tribune Content Agency, LLC.
McClatchy-Tribune News Service