Sen. Mitch McConnell to meet with 9/11 first responders on victim fund
Senate Minority Leader Chuck Schumer (D-N.Y.) on Monday said that it was good that McConnell agreed to meet with 9/11 responders, but that the GOP leader needs to promise to make funding permanent
---
Laura Figueroa Hernandez
Newsday
WASHINGTON — Senate Majority Leader Mitch McConnell is scheduled to meet with a group of 9/11 first responders — including three Long Islanders — on Tuesday as they continue to press Congress to permanently fund the federal government's 9/11 Victim Compensation Fund.
John Feal, founder of the Nesconset-based FealGood Foundation, which advocates on behalf of the first responders, said the 4 p.m. meeting was weeks in the making, long before McConnell faced a new wave of criticism last week for not immediately committing to an extension of the fund that is set to expire next year.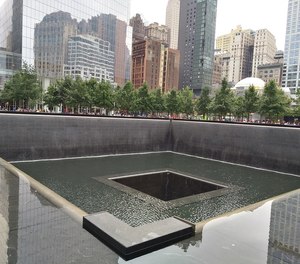 "Mitch McConnell has the chance to do the right thing … he has the chance to make our worst day, our worst week and our worst 18 years and make it his finest hour," said Feal, who lost his foot while working among the rubble of Ground Zero. 
McConnell's office did not immediately respond to a request seeking comment, but earlier this month, when asked about renewing the $4.6 billion federal program, he told reporters: "Gosh. I haven't looked at that lately. We've always dealt with that in a compassionate way, and I assume we will again, but I haven't looked at it lately."
Senate Minority Leader Chuck Schumer (D-N.Y.) on Monday said that it was good that McConnell agreed to meet with 9/11 responders, but that the GOP leader needs to promise to make funding permanent.
"Leader McConnell must come out of that meeting with a commitment to John Feal and all the families and victims who rushed to the towers in those fateful days after 9/11 that we will fully and permanently fund the victims' compensation," Schumer said at an unrelated news conference in Bethpage.
Schumer added: "We are pushing it hard. I believe that the president will sign it. All we need is leader McConnell to put it on the floor of the Senate right after it passes the House, and it will get done."
Feal, who was among the first responders who joined comedian Jon Stewart at an emotional House Judiciary Committee meeting on June 11, said passing legislation to permanently reauthorize the Victim Compensation Fund was necessary to ensure first responders who have grappled with high rates of cancer and respiratory diseases can "live the rest of their lives with dignity." In February, a special master appointed to oversee the fund said the fund was running short on money, and warned that future payments to first responders could be slashed by 50 percent.
The House Judiciary Committee passed bipartisan legislation to reauthorize the bill earlier this month, and House Speaker Nancy Pelosi (D-Calif.) has expressed support for the bill and indicated the measure could come up for a full floor vote in July.
Stewart, the former host of Comedy Central's "The Daily Show," took aim at McConnell after the hearing, criticizing the Republican leader for delaying past attempts to renew the fund.
"In terms of getting the 9/11 bills passed, Mitch McConnell has been the white whale of this since 2010," Stewart said during a June 16 appearance on "Fox News Sunday." "This has never been dealt with compassionately by Sen. McConnell. He has always held out until the very last minute and only then, under intense lobbying and public shaming, has he even deigned to move on it."
President Donald Trump, in an interview with NBC's "Meet the Press" Sunday, said "we'll see what happens," when asked if he planned on pressing McConnell to renew the fund.
"You know it's a very complicated subject for a lot of reasons," Trump told "Meet the Press" host Chuck Todd of the fund that was last renewed by lawmakers in 2015 and is set to expire in 2020.
Trump said he planned to hold a meeting on the subject "next week." The White House Press Office did not respond to questions seeking details about the meeting.
Feal said retired FDNY firefighters Kenny Specht and Michael O'Connell, who also hail from Long Island, will be among the first responders who will meet with McConnell.
"We're not letting up," Feal said
With David M. Schwartz
———
©2019 Newsday
McClatchy-Tribune News Service