Arizona earmarks $26M for 3 groups that support well-being of first responders, veterans
Of the allocated funds, $20M will go to the Heal the Hero Foundation, which offers tech-based mental health support, community education, research and training
---
By Leila Merrill
Editorial Staff
PHOENIX — Arizona is allocating $26 million to three state organizations that support the health and well-being of first responders and veterans.
The funds will support programs focused on mental health issues: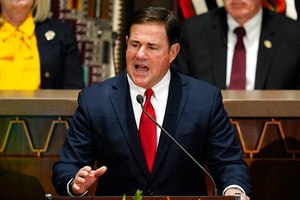 The Heal the Hero Foundation is slated to receive $20 million. The charity provides technology-based mental health support, community education, research and training for thousands of first responders, veterans and abuse survivors.
The Boulder Crest Foundation will receive $1.8 million. The foundation assists first responders with post-traumatic stress and does operations and outreach work. The funds will go to its "Struggle Well" training program and post-traumatic growth academy.
Unite Us will get $4.7 million for its work supporting veterans, which includes formerly incarcerated veterans.
"These investments build upon our actions to connect veterans and first responders with mental health services," Gov. Doug Ducey said in a news release last week.