Ala. EMS head says service needs new support to stay afloat
Oxford EMS interim Director Tom Dixon says the agency could struggle to provide services in the future if action is not taken to fund it
---
OXFORD, Ala. — Oxford Emergency Medical Services is in dire financial condition, its interim director said Thursday, and will need drastic action to continue operating beyond mid-August.
The long-ailing service has been inundated with lawsuits in recent years, frequently injected with emergency appropriations by the City Council while operating at an apparent loss. Most of its board of directors in late January resigned from their posts for reasons unstated, and the position of former director Ricky Howell was vacated days later. The director's office had been bare, save for a desk and filing cabinet, until interim Director Tom Dixon arrived in late March with a coffee pot, a printer and a desktop computer, all brought from home.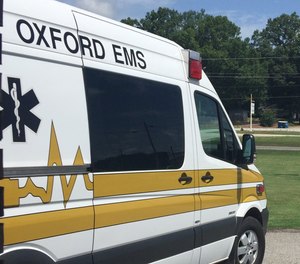 "I've been going to meetings, interacting with the community, managing the financial aspects, providing leadership, and by the way — being a full time paramedic," said Dixon, who holds a paramedic's license, a master's degree in health sciences and is working on a three-focus doctorate. "Yesterday alone, I answered four calls as a paramedic."
During an interview Thursday morning, Dixon logged into the medical service's bank account, which showed a cash balance of about $157,000. The money is what remains of an advance from Medicare — provided as an offset to the COVID-19 pandemic — of about $213,000 and a stimulus payment of around $70,000, he said, after payroll and a sizeable insurance deposit, among other costs. When he first arrived, he said, the business had just $5,000 in its account.
In mid-August, the advance will need to be repaid, and Medicare will simply keep the payments that are normally the service's revenue stream until the advance is settled. Medicare is the service's biggest source of income, paying a few thousand dollars every few days.
"Some insurance comes in, but the vast majority is Medicare," Dixon noted, highlighting payments within the account.
Even with Dixon's array of aggressive cost-cutting choices, the service will need some form of revenue to keep it alive when those payments stop arriving. Right now, though, Oxford EMS is still operating at full capacity, Dixon said.
"Is there a danger to the safety of the citizens of the city of Oxford today, or even tomorrow? Absolutely not," Dixon explained. "But if action is not taken, there is a potential for problems with the ability to provide emergency ambulance services."
The high cost of (providing) health care
The Medicare repayment isn't the only challenge Oxford EMS has to face; the service owes an estimated $400,000 to $600,000 to various institutions. The amount owed is estimated because Dixon and the current members of the board can't find financial data for the long-running service.
"It has been very difficult to discern the history of the organization from an operational, a financial and a leadership standpoint, because I have not been able to locate written documentation of how those three areas were being managed," Dixon said. "Effectively, we have almost not only had to try to right a ship that, from a financial point, seemed to be sinking quickly, but also, to continue operating, almost act as if we were starting an organization from the ground up."
Dixon has had to call banks and ask if they're owed anything by Oxford EMS, hoping to get a full picture of the organization's debt, after searching for receipts, invoices and other financial footprints failed. Dixon said the prior director has not been in contact with the service.
The former director, Ricky Howell, did however file a lawsuit on May 28 against the service and the city of Oxford. Dixon is not named in the suit, and said he has never met or spoken with Howell.
While trying to sort out the debt, Dixon has found necessary upgrades to make the service meet modern standards, including upgrades to the medical kits carried on the ambulances, tools to ensure that the cardiac monitors in the vehicles are hooked to the internet and transmitting to physicians waiting at hospitals, and even standardized uniforms, which the service didn't previously have, to ensure medics are easy to spot in emergencies.
"Does that cost money? Yes. Can you afford not to spend money on it, even when the ship is submerged?" Dixon asked. "You can't. You've got to be able to provide medical care."
Cost-cutting
A whiteboard hanging just beside his door is covered in to-do lists cordoned off by category: The service needs computers that can run Excel, a piece of everyday business software for tracking data, like expenses; radios bought ages ago with money from the Chemical Stockpile Emergency Preparedness Program need to be replaced.
A meeting with the Calhoun County 911 Board is still on the list, though that was handled Wednesday, Dixon said; apparently the previous administration had requested that all calls, emergency and non-emergency, arrive through the same channel, with no differentiation. A call about a three-car wreck or a heart attack arrived with the same intensity as a request for a ride to dialysis, for instance. Now emergency calls arrive with a specific tone to grab attention.
When he arrived, Dixon said, it appeared that much of the company's focus had been on working in Anniston. While the number of ambulances has been reduced, their focus is tighter, Dixon said.
"I think citizens may be better served not with seven ambulances on the street but six of them in Anniston running calls, but with three of them focused on providing EMS to the city of Oxford," he said.
In early April, the service laid off 13 of its part-time emergency medical technicians, cutting labor costs per period from averages around $60,000 to just over $40,000. The force reduction left the service with about 16 paramedics, not including Dixon, split among three shifts, reducing the number of active ambulances from as many as seven to three in the daytime and two at night.
Dixon also had the 911 service create a table of data showing when call volume is highest within the Oxford area, which includes the police jurisdiction, a territory stretching 3 miles from city boundaries.
According to the call volume chart, midday is when the most calls arrive, based on data from the last six months. Late in the evening the numbers are lighter. Dixon has used the data to position his remaining employees in areas where the most calls come from, and at the times they're needed.
An agreement with the city Fire Department allows for more ambulances to operate at once, Dixon said, with the two-person paramedic teams splitting up and pairing off with firefighters, who drive the ambulances and also have medical training.
"I can guarantee the three that are here right now are by God working for the citizens of the city," he said, "and with the agreement with the fire department they can turn into six."
An uncertain future
Dixon reiterated his confidence that the city has appropriate ambulance coverage despite the apparent issues looming in the future.
He hadn't expected the unusual set of circumstances surrounding the organization — like its long-deliberated status as a nonprofit, a private business or an arm of the city — but he seemed hopeful that with transparency, a good outcome could be reached for the service, which has existed in some form or another since 1970.
"It's a ship we're still trying to right despite the best efforts of this board and despite the best efforts of what the mayor and City Council have bent over backward to do for the organization," Dixon said. "But I cannot tell you that without some radical plan that this organization will continue to survive."
Reached for comment through the city public information officer, Mayor Alton Craft was quoted in an emailed statement as saying that the city would ensure medical service in the future.
"We will not allow the citizens of Oxford to go without an emergency medical service," Craft's statement read. "We will do what it takes to make sure the city is taken care of."
———
©2020 The Anniston Star (Anniston, Ala.)
McClatchy-Tribune News Service