Judge to rule on qualified immunity for Dallas FF-medics who mocked beaten man
The two first responders, who pleaded guilty to falsifying reports about the incident, may be protected from civil liability under the controversial doctrine
---
Nichole Manna
Fort Worth Star-Telegram
DALLAS — A federal judge in Dallas will have to decide if two paramedics are protected under qualified immunity after they failed to provide medical care to a homeless man who was brutally beaten outside of a soup kitchen in 2016.
The man, Hirschell Wayne Fletcher Jr., 46, died after he was taken to the Dallas jail despite begging for help and telling police and firefighters that he was injured. His body was found hours later lying under his jail cell mattress, according to court documents. He died due to bleeding in his brain after two people were caught on video slamming Fletcher's head into the sidewalk.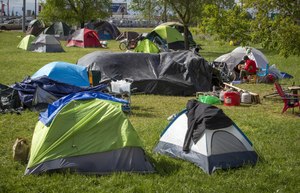 Firefighters Kyle Foster Clark and Brad Alan Cox, who responded to the beating call, pleaded guilty in March 2019 to a charge of tampering with a government record regarding the case. They falsified reports by stating that the Dallas Police Department hauled Fletcher to jail before their arrival, according to the indictment.
However, body camera footage that was reviewed by then-Dallas County District Attorney Faith Johnson and by Fletcher's sister shows that the firefighters laughed at Fletcher's condition and made fun of him for about 15 to 20 minutes instead of helping him, according to attorney Eric Kolder, who is representing Fletcher's family in a federal civil lawsuit against the firefighters and city.
Attorneys for both firefighters filed a motion to dismiss the lawsuit in September, claiming both men are protected because of qualified immunity, which shields government officials from being held personally liable for constitutional violations.
Qualified immunity has come under scrutiny after the killing of George Floyd by a Minneapolis police officer, who was arrested on a murder charge in June. Last month, the Supreme Court decided not to reexamine the qualified immunity doctrine.
A decision on the motion hasn't been made.
Kolder, who normally practices law in West Texas, said taking 10 months to decide on a motion is normally unheard of and until Judge Ada Brown makes her decision, the case is essentially stalled, which has left Fletcher's family in limbo. Brown was appointed by President Donald Trump in 2019, after the lawsuit was filed.
Asked how they're coping with the delay, Kolder said the family is "pretty upset."
"The man died in December of 2016 and cases can go on for a while, but none of these delays are our fault," he said.
A trial is scheduled for November and Brown must make a decision before its heard by a jury. If she doesn't, it will be pushed back.
"As long as we keep our November trial date, the family will be fine," Kolder said. "They just want a resolution."
Once Brown makes her decision, Kolder said the process to justice will move much quicker. If the motion is denied, both sides might attempt to settle out of court, or the November trial will be held.
Kolder is hopeful Brown will deny the motion and pointed to a recent 5th U.S. Circuit Court of Appeals decision that said the parents of a teenager who died in Mesquite police custody can sue the officers who failed him.
Graham Dyer, 18, died in the back of a police car after he slammed his head into the seat, window and metal bars 46 times while being driven to jail. Police didn't restrain Dyer, who was experiencing a bad acid trip, according to court documents.
The 5th Circuit's decision stripped the officers of the qualified immunity they were given by the lower courts. In its decision, the court wrote "there is no clearly established right in the Fifth Circuit to be free from medical inattention by officers who do not actually intend to cause harm."
Next: Rates of violence against the homeless are worse than you think
©2020 the Fort Worth Star-Telegram
McClatchy-Tribune News Service