Hospital bed delays: An iceberg with titanic challenges
Lessons from Pinellas County and an AIMHI EMTALA webinar that may help us all out
---
I've waited two decades to write this article. Back in the day, across the pond as executive director of operations for the UK's, East Anglian Ambulance Service, I regularly jousted with our largest regional hospital over the hours, cost and knock-on effects of handover delays. The root cause identified at the time was that the hospital's capacity and flow through its system caused the log jam. 
If the hospital couldn't discharge patients out of the back door, it would not generate bed space to take patients through the front door. The resultant solutions saw the development of a Capacity and Access Management System (CAMS), where hospital departments entered their staffing, patient loading and logistic issues into a system that identified a pressure score. This number then determined if the hospital could accept new patients or deal with the current volume. This led to several informed decisions around ambulance transportation and travel to EDs with less wait time or fewer patients.
Does any of this sound familiar? Two decades on, nothing seems to have changed and we are still seeing delays, finger-pointing and frustration at not being able to hand over the patient and return to post or respond to the next call.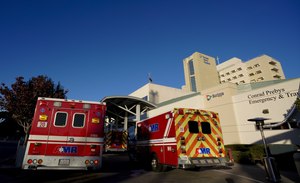 Recent weeks have seen several national associations tackle the issue that has many names – wall time, ambulance patient offload time (APOT), ramp time, ambulance delays and many more. Our inability to hand over a patient so we can return to service, go to the next waiting call or even log off and go home is currently a frustrating challenge that is guaranteed to raise tempers.
A recent Academy of International Mobile Healthcare Integration (AIMHI) webinar, "Best Practices for Mitigating Ambulance ED Delays," put up several legal and EMTALA subject matter experts to address and offer guidance and solutions to some of the main issues that surround this operational log jam.
Presenter Craig Hare, shared tactics, techniques and procedures from Pinellas County (Florida) EMS and Fire Administration.
As director, Hare presides over a county of a million residents, plus 6 million tourists annually. His jurisdiction takes in 18 fire-rescue departments and countywide ambulances employing 1,800 fire/EMS personnel with a combined 220,000-plus fire/EMS responses and 175,000-plus patient transports, feeding six hospital systems, 13 hospitals containing over 3,600 licensed beds and six freestanding EDs.
Hare made an essential point in the way we need to think about the issue – we are not caught up in an ambulance ED delay – we are all a part of a hospital bed delay and we should consider the problem in these terms. He urged that in every graph, conference call, press release and interview, we should call this what it is – a bed delay.
Define the EMS mission
Seventy-five percent of patients are non-COVID and need treatment, transport and access to care. The 911/EMS system must maintain operational capacity and everyone must understand that.
As we have seen throughout the pandemic, EMS has been a save-all service, assisting in mass vaccination, monoclonal antibody treatment and hospital triage, and encouraging telemedicine, urgent care and COVID-19 waiting rooms, to help relieve the strain.
It's always noted when discussing MCIs (and this is one of them) that leaders should not be exchanging business cards on the scene of the disaster. A clear link between all leaders must exist and should be used appropriately. Hare noted appropriately ranked individuals should maintain contact – doctors or senior clinical staff should not shout at the EMS provider; managers should speak to managers, executives to executives.
Information – and lots of it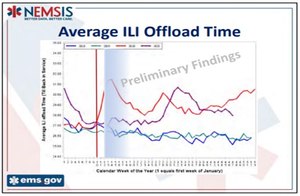 Systems can only act on intelligence and not anecdote. Hare advocates for a constant and live flow of information for all to see and understand – displays identifying hospital and ambulance status, live fire/EMS incidents and real-time paging notifications via the Hospital Emergency Notification System (HENS). Pinellas also uses a dedicated system status management dispatcher who is responsible for equalizing the patient load in real-time, which balances patient choice, transport volume by hospital size, patient arrival rate, and the special needs of stroke/STEMI/trauma and critical patients.
Behind the scenes, a Hospital Working Group, comprised of hospital CEO/COO/CMO/CNOs, and EMS, public health and emergency management leaders meets regularly to plan and foster understanding. Hare also issues a Monthly Hospital Bed Delay Report to all hospital administrators, itemizing transports, those without delay and compliance percentage. He noted, "Simple and powerful – trust me, they will look at this report to see market share." When times are tough, the report is sent daily, identifying all long delays by hospital, including date/time, number of minutes and patient complaint/severity.
EMTALA
Much has been said about The Emergency Medical Treatment and Labor Act (EMTALA) and its potential power over hospitals and delays. Presenter David R. Wright, director, Quality, Safety & Oversight Group, Center for Clinical Standards and Quality (CCSQ)/CMS – the very organization responsible for drafting EMTALA guidance – noted, "once the patient is actually on the hospital property, they're technically considered presented. And so what we wanted to do was make sure that hospitals understand that this is not an EMS patient any more than it's a drive-up patient."
That said, Hare shared, "My advice: don't hit the EMTALA nuclear button, just try to keep up the partnerships."
EMS Attorney Stephen R. Wirth, Esq., EMT-P, of Page, Wolfberg and Wirth, added, "There's no obligation under EMTALA that requires ambulance services to stay," but, like Hare, Wirth recommends collaboration and understanding. "Everybody's been swamped," he said, "whether you're in EMS or the hospital side. But the bottom line is everybody's got to work together to fix this and to work on the problem." They make an excellent point: EMTALA is the nuclear option, and like those particular devices, it's an option you can only use once, as mutually assured destruction will surely follow.
This article represents just the tip of the hospital bed delay iceberg that has presented titanic challenges. AIMHI is working on a detailed article that will take a deeper dive, to be published shortly. To return to my days outside the Norfolk and Norwich Hospital of 20 years ago, watching a lot of trucks going nowhere, the real solution is that of hospital capacity and flow. Discharge planning should begin at admission, and if we are held at the front door, we have little chance of clearing the back, so we must work together to improve the situation ... before we all sink.
EMS One-Stop With Rob Lawrence
In this episode of EMS One-Stop, sponsored by Blink, Rob Lawrence is joined by PW&W Attorneys Doug Wolfberg, Esq.; and Steve Wirth, Esq. A solid discussion takes place on the EMS legal and ethical obligations to patients at the ED, and strategies to combat hospital bed delays, as well as the downloadable tip sheet also available at EMS1.