Tenn. EMS services provide COVID-19 monoclonal antibody treatment
Crockett County EMS and Haywood County Ambulance Authority are administering antibody infusion therapy to reduce hospital overcrowding
---
By Kerri Hatt
CROCKETT COUNTY, Tenn. — Crockett County EMS has opened a monoclonal antibody treatment clinic for its county.
Stephen Sutton, Crockett County EMS director, told WBBJ, getting the treatment is simple: "They test positive today. Their primary care provider sends in an order to the ambulance service, and they can show up to our clinic the very next day and receive this injection that has really had positive benefits among the citizens here," he said.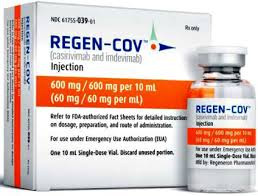 Sutton told WBBJ patients receiving monoclonal antibody treatment sometimes see results almost immediately, but cautioned people should not use treatment as a replacement to the vaccine.
The clinic is free for anyone needing treatment, and the main goal is to help reduce overcrowding in hospitals, WBBJ reported.
Tennessee Governor Bill Lee tweeted, "Significant work is happening at the community level across our state, & I want to commend Crockett County EMS for becoming the first EMS service in TN to offer monoclonal antibodies treatments. Thank you for offering this service to the citizens of Crockett County!"
The Brownsville Press reported nearby Haywood County Ambulance Authority plans to provide monoclonal antibody infusion therapy as well.
Significant work is happening at the community level across our state, & I want to commend Crockett County EMS for becoming the first EMS service in TN to offer monoclonal antibodies treatments. Thank you for offering this service to the citizens of Crockett County! pic.twitter.com/kxiDzgsoEa

— Gov. Bill Lee (@GovBillLee) August 27, 2021