Pa. county medic sues ambulance service for sexual harassment
A 25-year veteran of Fayette EMS is suing the agency after she says a veteran supervisor "slapped her on the buttocks" according to the suit
---
Paul Peirce
Tribune-Review, Greensburg, Pa.
PITTSBURGH, Pa. — A longtime female paramedic with Fayette EMS is suing the ambulance service and a veteran supervisor, alleging she was sexually assaulted and harassed on the job.
The woman claims in a civil discrimination complaint filed in U.S. District Court in Pittsburgh that she went to the Uniontown ambulance station March 26, 2018, to replace a portable radio and was talking to three co-workers when a supervisor, Steven Rugg, approached her from behind and "slapped (the woman) on her buttocks."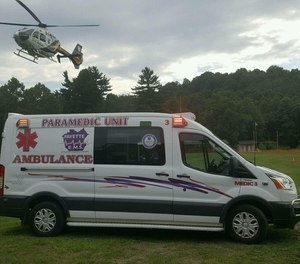 "… Rugg's slap was so forceful that it caused (the woman) to jump forward several feet. The plaintiff believes … that male employees were not subjected to such intentional, malicious behavior," the 11-page complaint filed Friday states.
The woman is seeking unspecified compensatory and punitive damages, payment of medical expenses, and attorney fees.
The lawsuit alleges Rugg was suspended for 30 days, with pay, after the woman filed a formal complaint.
"On April 30, (Fayette EMS) allowed defendant Rugg to return to work without any restrictions or further discipline," the lawsuit states.
The lawsuit alleges that upon Rugg's return to work, the ambulance service's chief operations officer, Richard Adobato, told other employees "(the woman) better get over what happened, or he will come after her if she doesn't stop running her mouth," the lawsuit states.
The lawsuit also alleges EMS officials had known previously about "Rugg's proclivity of creating a sexually hostile work environment" and failed to take action.
The woman has worked as a paramedic with the ambulance service for nearly 25 years. The Tribune-Review does not identify alleged sexual assault victims.
Rugg could not be reached for comment.
Adobato said Monday he had not seen a copy of the lawsuit and could not comment..
The woman's attorneys, Joel Sansone and Elizabeth Tuttle of Pittsburgh, filed a complaint with the U.S. Equal Opportunity Commission last May, which issued a right to sue in federal court Jan. 31.
———
©2019 Tribune-Review (Greensburg, Pa.)
McClatchy-Tribune News Service