Fallen FDNY EMT's uncle, union leaders call for fair pay for EMS providers
The uncle of FDNY EMT Yadira Arroyo, who was killed in 2017, questioned city council over the disparities in pay for EMS versus fire personnel
---
Shant Shahrigian
New York Daily News
NEW YORK — The uncle of fallen FDNY EMT Yadira Arroyo testified Tuesday that she was barely able to make ends meet on her salary, speaking at a City Council hearing on low pay for the city's emergency medical services personnel.
"She loved her job but she, like her colleagues, was not given the pay, the resources or the support she deserved," said the uncle, A.J. Hernandez, noting she often did double shifts and was working one when a career criminal stole her ambulance and mowed her down in March 2017.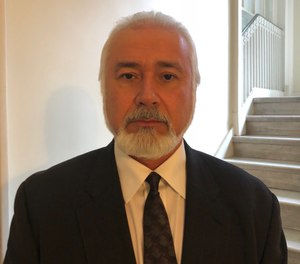 "She died a hero. This is what heroes do," Hernandez continued. "Now my question is: Is the loss of my niece's life different from the loss of a firefighter's life? My niece saved lives. How is that different from what a firefighter does?"
The question cut to the heart of the matter debated Tuesday: the city's EMS staff are paid at significantly lower rates than other first responders. The salary of an FDNY EMS provider starts around $35,000 and rises to $50,000 over five years. By comparison, an entry-level firefighter gets about $45,000, which more than doubles over five years.
"The city undermines its EMS workforce, its own reputation and the public it is charged to protect daily by not addressing pay inequalities in our department," said Michael Greco, vice president of the EMS Local 2507 union.
He said the low pay is contributing to high attrition — adding that the rate is underreported by the city.
"For far too long, numbers have been used against EMS first responders to improperly report attrition rates," Greco said.
"Every four years, we lose 25% of our members to [FDNY] through a botched process," he continued. "The [FDNY] then adds insult to injury by referring to this as a 'promotion.' "
FDNY Chief of EMS Lillian Bonsignore acknowledged attrition issues — saying a "key factor in departing members is pay" — but wouldn't make any promises on pay parity.
Councilman Ydanis Rodriguez (D-Manhattan) asked her, "Do you feel [EMS staff] should have the same salary as firefighters?"
"First responders should be paid appropriately for what they do," Bonsignore replied, sticking to the line through several rounds of back-and-forth.
Rodriguez and other politicians voiced support for a nonbinding Council resolution calling for pay parity between EMS staff and other first responders. They also argued for a bill that would require the FDNY to give annual reports on resignations.
Hernandez hoped his testimony hadn't fallen on deaf ears, saying that EMS staff "are leaving with no [other] choice, and the ones that stay are struggling."
He added that Mayor de Blasio had let him and his family down after Arroyo's death, saying the mayor refused to help get her posthumously promoted but promised at her funeral that unnamed connections with "unimaginable wealth" would make sure her family was taken care of.
"That never materialized," Hernandez said, calling de Blasio's remarks "all fluff and no substance."
The mayor's office did not immediately provide comment.
———
©2020 New York Daily News
McClatchy-Tribune News Service