Colo. law restricting EMS use of ketamine goes into effect
Restrictions include weighing the patient and airway management training, equipment in the presence of law enforcement
---
By Jessie Forand  
 
DENVER — A new Colorado law has gone into effect that will restrict ketamine use by paramedics on agitated people outside a hospital setting.  
Signed by Gov. Jared Polis this week, the law on the appropriate use of chemical restraints on a person dictates when and how the drug should be used.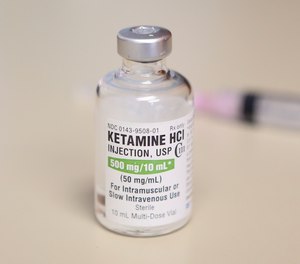 Related: Colo. bill that would limit EMS ketamine use passes House committee with amendments 
KDVR reported, if a police officer is at the scene, according to the new law, an EMS provider should only administer ketamine if they have weighed the person to confirm dosage, been trained in ketamine administration and advanced airway support, and have equipment available to both manage respiratory depression and monitor the persona's vital signs so they can respond to reactions.  
"I think that ultimately, we believe that in certain circumstances – very particular, violent situations – that ketamine is the best medication," Will Dunn, senior manager for clinical services, Eagle County Paramedic Services, said. "I certainly understand and am sympathetic to the sponsors of the bill and wanting to make sure that's done in the proper way." Dunn noted Eagle County has increased training into ketamine since the 2019 death of Elijah McClain. 
Rep. Leslie Herod (D-Denver) introduced the bill during the 2021 legislative session. She told KDVR she was disappointed with the state's ketamine-related data and the lack of action after instances in which people died or had adverse reactions.  
"You cannot forcefully inject someone with a drug that can kill them without having the proper medical attention right there and supervision right there, and it can never happen at the direction of law enforcement," she said.  
Related: Ketamine administration comes under the spotlight  
Last month, KDVR reported that a study, Out-of-Hospital Ketamine: Indications for Use, Patient Outcomes, and Associated Mortality, found that of the 11,291 people given ketamine outside a hospital setting in 2019 – 3,795 who were administered the drug for behavioral reasons – 23% suffered decreased respiratory rates afterward.  
"We really need to think about, 'Are we giving our medications for the right reasons, for the right indications, to the right patients?'" Dr. Brent Myers, chief medical officer at ESO, the group that conducted the study, asked.  
Scott Sholes, president of the Emergency Medical Services Association of Colorado, is not convinced. 
He told KDVR, "This consequences of this bill, likely unforeseen and unintended by the Colorado General Assembly, will dramatically impact our ability to safely treat and transport mental health and other patients experiencing life-threatening emergencies, and EMSAC is working with CDPHE to reinstate those waivers within the parameters of the new legislation."