Colo. EMS agency to review police body camera footage after every ketamine use
Eagle County Paramedic Services officials said ketamine is an important tool for treating agitated patients and that they hope to address the public's concerns with the new protocol
---
By Laura French
EAGLE COUNTY, Colo. — A Colorado EMS agency says it will review police body camera footage every time ketamine is administered by one of its paramedics. 
Eagle County Paramedic Services Senior Manager of Clinical Services Will Dunn told public commenters at an Emergency Medical Practice Advisory Council (EMPAC) meeting on Monday that he hopes the new protocol will help address their concerns about the use of the sedative, according to KDVR.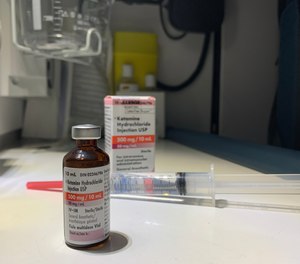 Dunn said the idea to review body camera footage came after he viewed footage from two controversial cases involving ketamine in the state, neither of which Eagle County Paramedic Services was involved in. The use of ketamine by EMS agencies in the state came under increased scrutiny after the death of Elijah McClain and hospitalization of Elijah McKnight, who were both administered the drug while in police custody. 
Dunn emphasized that ketamine is an important tool for treating agitated patients and keeping patients, paramedics and members of the public safe. Dr. Kevin McVaney, a Denver Health emergency physician who is a member of the EMPAC group, also said that ketamine is the safest sedative for agitated patients.
The EMPAC members responded to feedback from public commenters including Lakewood City Councilwoman Anita Springsteen, whose boyfriend was administered ketamine last year. Springsteen called the use of ketamine a "violation of human rights" and "assault and battery," and said that paramedics and medical directors were being influenced by law enforcement, according to KDVR. 
McVaney responded, saying that law enforcement should never be involved in dictating the administration of medications and added that if that is happening it should be stopped. 
During the meeting, EMPAC members also discussed a new system that will be used to collect more thorough data about ketamine complications in the state starting in 2021. Colorado has also instated a new rule requiring agencies to alert the state health department within 24 hours if a patient dies or suffers a cardiac arrest after ketamine administration.