Colo. city council approves temporary ban on EMS use of ketamine
The Aurora City Council voted unanimously to temporarily ban paramedics from using ketamine to sedate patients pending a review of the practice
---
By Laura French
AURORA, Colo. — A Colorado city council has voted to temporarily ban paramedics from using ketamine to sedate patients. 
The Aurora City Council voted unanimously to approve the ban, which will stay in effect until the 30 days after the conclusion of an investigation into the death of Elijah McClain, according to KDVR.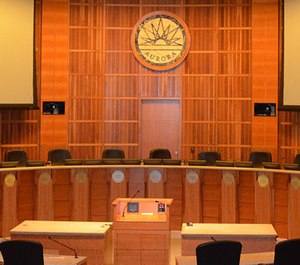 McClain died last August after being restrained by Aurora police and administered ketamine by paramedics. His death led to increased scrutiny of out-of-hospital ketamine use. The Colorado health department has also launched a review into the state program that grants waivers for EMS providers to use ketamine in out-of-hospital settings. 
The National Association of EMS Physicians issued a statement earlier this month defending the prehospital use of ketamine, stating, "EMS providers are skilled professionals following the medical protocols set forth by their physician medical director ... The suggestion that ketamine is routinely being used for 'non-medical' purposes is dangerously misleading."
Aurora Fire Rescue released a statement following the vote saying, "Ketamine is currently listed in the Aurora Fire Rescue authorized version of the Denver Metro Prehospital Protocols for the treatment of excited delirium. The department will remove all ketamine from service units beginning 8 a.m. Tuesday, Sept. 15. Consistent with their training, the paramedics of Aurora Fire Rescue are directed to contact medical control for guidance if they encounter a situation that is unique or challenging while treating a patient." 
Paramedics with Aurora Fire Rescue and Falck Rocky Mountain, which provides ambulance transport services in the city, will be trained on new protocols following the ban. 
Councilmember Curtis Gardner, who sponsored the temporary ban, told KDVR he wanted to "put a pause" on the use of ketamine to "make sure we're providing our paramedics with the best tools possible for them to do their jobs." 
Aurora Mayor Pro-Tem Nicole Johnston expressed concern about the complication rates for ketamine administration to patients with excited delirium and said she believes the Colorado health department should put a temporary pause on all ketamine waivers in the state.