IAFC delivers search and rescue tool to help with hurricane response
The Search & Rescue Data Collector Tool allows first responders to capture real-time information, enabling command leadership to see where resources are needed
---
By News Staff 
CHANTILLY, Va. — IAFC is offering first providers access to its Search & Rescue Data Collector Tool to help during Hurricane Dorian relief efforts. 
IAFC partnered with the National Alliance for Public Safety GIS Foundation and Ersi to provide access to the IAFC's Search & Rescue Data Collector Tool, according to a press release. Thanks to a collaborative project between the IAFC and FEMA, first responders can use the tool to share data in one location.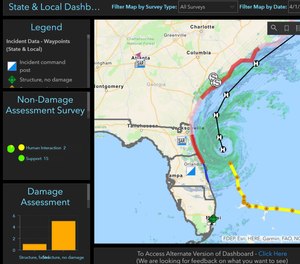 The tool is based on an ESRI Survey 123 application that allows first responders to capture real-time information on a dashboard, enabling command leadership to see where resources are needed the most. 
"This technology and suite of tools empower emergency responders to document individual searches, photographic, geo-coded information on victim contact and any other information that needs to be captured," Chief Gary Ludwig, IAFC president and chairman of the board, said. "We are pleased to continue our work with our partners to bring important, life-saving information to the fingertips of emergency responders when they need it most."