W.Va. first responders deployed to La. prepare for 2nd hurricane
Six members of the Kanawha County Emergency Ambulance Authority's Special Operations Team stayed behind to continue relief efforts after Hurricane Laura
---
Joe Severino
The Charleston Gazette, W.Va.
NEW ORLEANS — Most of the Kanawha County first responders who traveled to assist in Hurricane Laura relief efforts have returned home, but some emergency crew members are still in Louisiana, awaiting a second hurricane set to hit the country's Gulf Coast.
Six members of the Kanawha County Emergency Ambulance Authority's Special Operations Team are still working in New Orleans, caring for evacuees in a local hotel.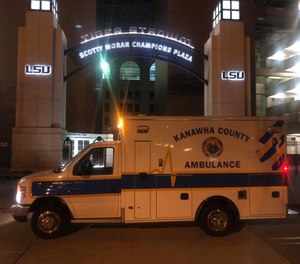 Commander James "Buzz" Mason, who leads the authority's special operations team, said by phone that the crew is waiting to see what the impact of incoming Hurricane Sally might be. The team could be headed to Mississippi to continue relief efforts, if the damage is significant.
The 18-person special operations team left Charleston on Aug. 28, driving 16 hours before reaching the hurricane relief site in Louisiana. Twelve members returned from that duty last week.
Mason, on his third deployment with the ambulance authority, said Kanawha County's first responders are no strangers to disaster areas. Emergency crew members have responded in the aftermath of hurricanes Sandy, Rita, Irma, Maria and Florence, among other tragedies.
The Federal Emergency Management Agency has given the ambulance authority a preferred contractor award, Mason said, which designates Kanawha County's special operations team as one of the top first responder crews in the United States. It is hoped that, when Kanawha County suffers a crisis, other response teams from across the country will return the favor.
Kanawha County's crews, which can be mobilized and dispatched to disaster areas in no time, are sought nationwide, Mason said.
"We can make friends with anyone. We're one of the most accepting cultures, regardless of the demographics of the area; whether it's rural or urban we just get to work," he said.
This deployment has had some noticeable differences. A deadly virus is simultaneously wreaking havoc in the United States, creating additional worries during relief efforts.
"You have this stress with COVID-19 and, for the first time, a responder can get sick [as well]," he said. "Those are the mental stressors and the mental health things that we got to help our people with. They're great about it and nobody has any complaints, but you know, in the back of their heads, it weighs on them."
The humidity in the Deep South is nothing to play with, either.
"It's a different kind of heat in the swamps," said Mason, who led disaster relief efforts over his 24 years in the U.S. Navy before returning to Kanawha County.
The special operations team has worked in Alexandria, one of Central Louisiana's largest cities; its members responded to Iota, a small town near the southern coast. The crew also worked in Leesville, a town that hugs Louisiana's border with Texas.
Mason said much of Louisiana is very rural and comparable to West Virginia but that the state's flat terrain makes miles and miles of hurricane wreckage visible.
"One location we were in, every third pole was knocked down by trees," he said. "We've seen trees snapped off and twisted off at 20 feet up in the air."
These lines power entire towns, and residents have told Mason that they aren't expecting electricity again until at least October.
Mason said the ambulance authority recently created a community paramedic program, which trains responders in becoming caretakers for an entire community. That community now is a local New Orleans hotel, where Kanawha County members are providing medication reconciliation, connecting people to dialysis appointments and providing treatment.
"The community paramedic is really paying it forward — it's a new program in Kanawha County; it's only about three years old — and they are really taking on the role here where they are caring for the community, and the community happens to be 160 evacuees from Lake Charles," he said.
The crew members have, thus far, avoided stabbings and other violent incidents that have occurred in the hotel among evacuees, Mason said.
Mason said the deployment has been mostly positive, and the crew has enjoyed the hospitality of Louisianians. One night, a family gifted crew members with a kettle of jambalaya.
The special operations team sponsored one evacuee's fifth birthday party after a boy told crew members his family had lost their home and belongings to Laura. Crew members Kayla Neil, Trish White, Jeff Broyles and Mason overloaded the boy, named Shane, with toys and birthday treats, purchased with money from their own pockets.
———
©2020 The Charleston Gazette (Charleston, W.Va.)
McClatchy-Tribune News Service