Paramedic who worked for President George H. W. Bush honored
Evan Sisley, a Houston-based paramedic, worked for the former president for five years before his death and attended his funeral
---
By EMS1 Staff
AUGUSTA, Maine – Houston Paramedic Evan Sisley was honored at the annual Maine EMS Awards with the Distinguished Service Award for his work in assisting former President George H. W. Bush.
Bangor Daily News reported that Sisley had been employed by Bush to care for him for nearly five years, and had grown close with him and his wife, Barbara Bush, before they died.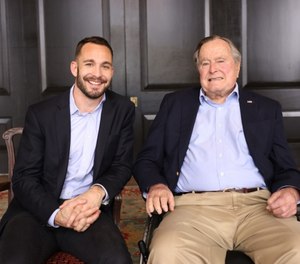 Sisley, who got married during his time working for the Bushes, said he planned to model his marriage after theirs.
"The majority of their conversations just happened through unspoken moments, and to be able to see hot that can be done, and have that successful of a relationship at that point of life," Sisley said, "it's unbelievable."
Sisley was present when Bush said goodbye to Barbara shortly before she died, and said both of them thought highly of first responders and the medical community.
"We would never have been able to provide the same level of care if it wasn't to the Bushes who embraced health care to the level of which they did," he said. "They always saw themselves as representing what you can do through actions."
Sisley will be attending Georgetown University this fall on his way to becoming a doctor, something Bush referred to as a "great resume builder."
"At first I didn't know what he meant by that," Sisley said. "But, he was saying that no matter what you do, keep on looking on and moving forward in life."
A GoFundMe Page, created by Jean Becker, chief of staff to Bush, to help Sisley pay for medical school, has raised more than $75,000, surpassing its goal.