NTSB: Fog disoriented pilot in fatal 2019 medical helicopter crash
The crash in Minnesota killed the pilot and a flight nurse, and seriously injured a flight medic
---
By Laura French
BRAINERD, Minn. — The National Transportation Safety Board's final report on a fatal 2019 medical helicopter crash in Minnesota found that dark, foggy conditions caused the pilot to become disoriented, which was likely the main cause of the crash. 
The crash of the North Memorial Health helicopter at Brainerd Lakes Regional Airport on June 28, 2019, which occurred as the crew was returning from delivering a patient to the hospital, killed Pilot Tim McDonald and Flight Nurse Debra Schott, and seriously injured Flight Paramedic Josh Duda.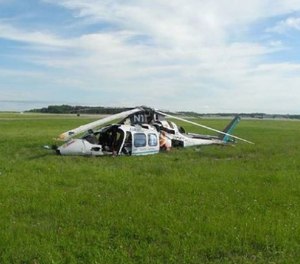 The NTSB's final report states that Duda said McDonald mentioned the foggy conditions and said a go-around would be needed as the helicopter approached the runway.
McDonald declared a missed approach, but the NTSB stated that "dark night conditions at the rural airport resulted in little to no visual references during the pilot's transition to landing and the attempted missed approach" and that McDonald likely "became spatially disoriented, which led to the excessive pitch attitude, slow airspeed, his failure to recognize and arrest the right yaw, and the subsequent loss of control," The Bemidji Pioneer reports. 
Visibility at the time of the crash was about a quarter-mile, which was the minimum approved for approaches by North Memorial Health at the time. After the crash, the hospital increased the minimum visibility to 1 mile.