Pa. researchers launch study on physical, mental health of pandemic responders
The planned 20-year study seeks to assess the short- and long-term effects of the pandemic on the well-being of first responders and healthcare workers
---
By Laura French
VILLANOVA, Pa. — Researchers at a university in Pennsylvania have begun studying the impact of the COVID-19 pandemic on the physical and mental health of first responders and healthcare personnel. 
Villanova University's M. Louise Fitzpatrick College of Nursing is planning to recruit workers directly involved in treating, transporting, caring for or serving COVID-19 patients for the 20-year longitudinal study, according to a university press release. The research will assess the impact of this work on the physical, mental, social and behavioral well-being of front-line workers.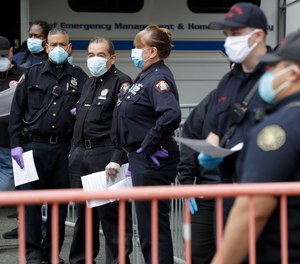 "It is vital we learn from this experience and understand the broad scope of the impact on the health of those on the front lines, their potential future health needs and to contribute to knowledge to inform public health strategies that provide effective care when similar crises develop in the future," Fitzpatrick College of Nursing Dean Donna S. Havens, PhD, RN, FAAN, said in a statement.
The project, called the CHAMPS Caring about Health for All study, will examine participants' coping mechanisms, the impacts on their career and family life and changes to their physical health following the pandemic. Participants will include firefighters, EMS providers, police officers, nurses, doctors, hospital service staff such as maintenance workers, and other front-line workers from the United States and U.S. territories. 
"One of the most striking aspects of this pandemic is the degree to which people in a broad range of occupations have been critical to implement the sustained effort to gain control over this deadly virus," Havens stated. "The dedication by people from all walks of life who help those who become infected has given us hope." 
The CHAMPS research will be led by Peter Kaufmann, PhD, dean of research and innovation at the Fitzpatrick College, along with Havens and Janell Mensinger, PhD, FAED, associate researcher professor and biostatistician at Villanova.
"We owe it to the police officers, paramedics, service staff, nurses and physicians, to learn bout the effects that their sacrifices have had on their lives – and we will accomplish this through the CHAMPS study," Kaufmann said in a statement. "It will take many years for the various effects of their work to play out. We intend to follow those who join this study for many years to assure that we understand how best to support them and to plan for any future disasters."