Ill. ambulance association seeks $55M in pandemic relief, higher Medicaid reimbursements
"The government isn't paying its fair share to make sure that we can appropriately compensate the EMTs and paramedics," said ISSA President Chris Vandenberg
---
By Leila Merrill
PEORIA, Ill. — The Illinois State Ambulance Association is asking the state to allocate $55 million in pandemic relief money for related costs and for Medicaid to increase its reimbursements, WMBD reported Tuesday.
"Ultimately, what it boils down to is the government isn't paying its fair share to make sure that we can appropriately compensate the EMTs and paramedics that work for us," said ISSA President Chris Vandenberg. "The $55 million is really just to help offset the cost that we've had. We have incurred increasing expenses, whether it's related to paying hazard [pay], whether it's related to the PPE that we've had to source for our own EMTs and paramedics."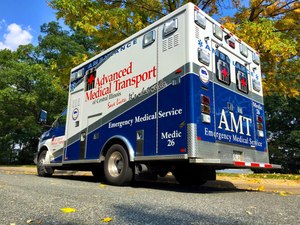 Andrew Rand, CEO of Advanced Medical Transport, said that 80% of the calls his agency gets are for Medicaid and Medicare recipients and that those are not reimbursed at a high enough rate for AMT to maintain competitive pay.