Med Flight pilot injured by laser pointer, forced to cancel flight
The UW Health Med Flight helicopter was on its way to assist a crash victim when someone shined a laser at it, forcing the crew to abort the mission
---
By Chris Aadland
The Chippewa Herald
CHIPPEWA FALLS, Wisc. — For the first time in its history, a UW Health helicopter ambulance was forced to cancel a flight Tuesday due to someone shining a laser pointer at its pilot.
The UW Health Med Flight helicopter was on its way to assist a crash victim in Columbia County on Tuesday evening when someone shined the laser at it, injuring the pilot and forcing its crew to abort the mission.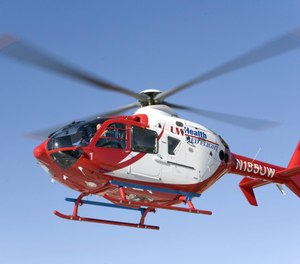 The helicopter tried to land in Pardeeville to pick up a 17-year-old side-by-side utility vehicle crash victim with head injuries when someone on the ground used "a strong laser pointer and shined it towards the helicopter," said Columbia County Sheriff Dennis Richards.
He said the laser pointer made operating the helicopter unsafe for its crew and others on the ground.
The laser pointer injured the Med Flight pilot's eyes, forcing the helicopter to return to its base in Madison without the crash victim.
A Columbia County deputy also suffered a leg injury while searching for the laser pointer suspect, Richards said.
Dr. Ryan Wubben, Med Flight's medical director, said the pilot was examined at UW Hospital's emergency room, where he was told he didn't suffer serious or permanent injuries.
"Fortunately, he's OK," he said.
While it was the first time a laser pointer has affected a UW Health Med Flight helicopter, Wubben said it's not an uncommon problem for aircraft pilots nationwide.
"This is something that has been occurring," he said. "It's happened with enough frequency out there that it's recognized as a problem."
It's such a concern that aiming a laser pointer at an aircraft is a federal offense that carries a potential five-year prison sentence. In Wisconsin, it's also a class I felony to obstruct emergency or rescue personnel and class F felony for reckless endangerment, Richards said.
The light in laser pointers, which can be found on Amazon for less than $10 or at many other retailers, can affect the retina and cause permanent eye damage when shined directly at the eye, Wubben said.
"These are nothing special," he said, adding that the laser pointers are "ubiquitous" now.
The night vision goggles the helicopter's crew used during the flight were also temporarily deactivated when the light from the laser's light hit their goggles, Wubben said. He said the crew's goggles have an automatic temporary deactivation feature when bright light hits the goggles.
The original crash victim had to be transported by a ground ambulance to be treated, Richards said.
Deputies responded to the crash, which occurred on Crown Road in the town of Scott, at about 5 p.m., he said.
The helicopter originally was supposed to land next to the crash site on Crown Road but fog at the site forced the crew to reroute to a designated landing zone in Pardeeville, Wubben said.
It's unclear where the laser pointer was being aimed from, but it was likely somewhere in Pardeeville, said Columbia County Detective Sgt. Jason Kocovsky.
He said authorities don't have a suspect description, but are investigating the incident and canvassing Pardeeville.
Wubben said crew members said they noticed the laser pointer when circling over Pardeeville.
"This was clearly a laser that appeared to be tracking (the helicopter)," he said.
___
(c)2018 The Chippewa Herald, Chippewa Falls, Wisc.
McClatchy-Tribune News Service