NY ambulance service honors EMT who saved residents from burning home
Mohawk Ambulance Service EMT Jesse Strader, who is also a volunteer firefighter, spotted the fire from his ambulance
---
By Laura French
SCHENECTADY, N.Y. — A New York ambulance service awarded one of its members this week for saving several residents from a fire in 2019. 
Mohawk Ambulance Service awarded its first-ever Heroism Award to EMT Jesse Strader, who was on a shift with his partner EMT Noah Carlo on Oct. 31, 2019 when he noticed what appeared to be a fire in the distance, according to the ambulance service. The crew drove to the source of the fire and found a small crowd gathered outside a two-family home.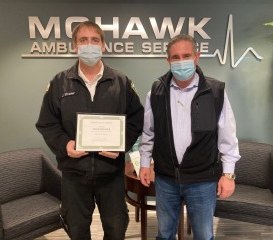 After learning that there will still people inside the burning building, Strader, who is also a volunteer firefighter with the Rexford Fire Department, went inside and started banging on doors. Several people who were asleep and unaware of the fire were woken up by Strader, who escorted them safely out of the building. 
"Jesse Strader is a hero and we are proud to have him on the Mohawk team. He has always gone above and beyond the call of duty to preserve the safety of his community, whatever the situation," said Mohawk Ambulance Service Presdient James P. McPartlon III, in a statement. "It is this act of heroism that reminds us of the allegiance we as emergency medical service personnel are called to each and every day. On behalf of Mohawk Ambulance Service, I thank Jesse Strader for his service and his act of selflessness." 
Strader said he was humbled to receive the award, and grateful that he was in the right place at the right time.
"It is truly a blessing that everyone was able to get out of that burning building unharmed," Strader stated. "As both an EMT and volunteer firefighter, I feel responsible to our community and a dedication to help in circumstances such as these whenever I can."