N.Y. lawsuit may upend council's vote to reinstate FD ambulance service
One of the the suing parties' claims is that an alderman who cast one of the "yes" votes should have abstained since his son works for the Lockport Fire Department
---
By Ben Joe
Niagara Gazette
LOCKPORT, N.Y. — Fourth Ward Alderman Kathryn Fogle and former alderman at large Gina Pasceri are among the plaintiffs in a newly filed lawsuit attempting to upend the Common Council's December reinstatement of ambulance transport service by Lockport Fire Department.
The suit, filed Tuesday in State Supreme Court, Niagara County, asks that actions taken by the council on Dec. 19 be declared null and void on the basis they're illegal. Joining Fogle and Pasceri in the suit are past alderman at large Joseph Kibler and city resident Blake Lemoi. They're represented by Buffalo-based attorney James Ostrowski.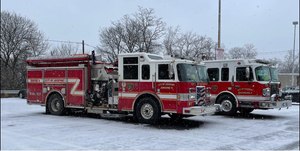 During a Dec. 19 special meeting of the council, called for the purpose of choosing an ambulance service provider to cover the city in the wake of Twin City Ambulance's pending pullout, Mayor Michelle Roman cast the tie-breaking vote to authorize LFD's re-entry into the business, after Pasceri and former 5th Ward alderman Kristin Barnard voted "no" and Fogle voted "abstain." Deputy city attorney Jason Cafarella had advised that Fogle's "abstain" counted as a "no."
Among the suing parties' claims: The special meeting was an illegal meeting because it didn't comply with the city charter, public officers law and public notice requirements; and an executive session held during an ambulance service-related personnel committee meeting prior to the special meeting was illegal, since no justification had been stated for the executive session and no vote to enter executive session was held.
Further, the suit asserts that Fogle's vote should not have been counted as a "no," thus there was no tie for Roman to break, and the authorizing resolution "did not pass by a majority of the votes cast ... ."
In addition, the suit claims 3rd Ward Alderman Mark Devine, who cast one of the "yes" vote, should have abstained, since his son Matthew is employed by LFD.
Roman is named as a defendant in the suit along with all six aldermen and Lockport Professional Firefighters Association.
On Wednesday, Fogle and Pasceri did not return multiple phone calls from this reporter seeking further explanation of their claims.
Kibler and Lemoi both said they favor the return of LFD ambulance service in the city, but they take issue with the way it occurred.
Kibler doesn't think it's right that Fogle's "abstain" vote was counted as a "no," setting up Roman to break a tie.
"When I was on the council it had to be three-three to be a tie, not two-three," Kibler said.
Lemoi said he's bothered by the "illegal" means by which the deal was done.
"Two aldermen stepped down (after the vote). They gave up on the city," Lemoi said.
Roman said she would not address specific claims in the lawsuit.
"However, with regards to the ambulance service, I am proud to report that the fire department-run ambulance is a success, as it is providing life saving services to our community," Roman said. "I would be disappointed to learn that a minority of political operatives are seeking to take away this vital service from residents."
The lawsuit follows Fogle's February call for an investigation of the circumstances during the Dec. 19 council and committee meetings, during which, she claimed, several aldermen including her were subjected to "verbal abuse". Similarly, Pasceri, in her early January resignation letter, cited a "hostile and bullying work environment" at city hall.
Deputy city attorney Pat McGrath conducted an investigation of those meetings, setting out to interview all 12 city officials and employees who were present, and not getting cooperation from Fogle, Pasceri or Barnard. McGrath's report, presented to Roman and the council in mid March, found no wrongdoing.
"There was no violation of any City policy," McGrath wrote in her report. "No violations of criminal law. Nor any corroboration of 'abuse, attacks and intimidation' at the meeting."
---

Read more
With new ambulances, N.Y. fire department is back in EMS business
One Lockport alderman described the process of restoring EMS as a battle to save the fire department after budget issues and the layoff of five firefighters
___
(c)2023 the Niagara Gazette (Niagara Falls, N.Y.)
Visit the Niagara Gazette (Niagara Falls, N.Y.) at www.niagara-gazette.com
Distributed by Tribune Content Agency, LLC.
McClatchy-Tribune News Service