NH fire department named EMS service, trauma department of the year
The Seabrook Fire Department was awarded EMS service of the year jointly with the Hampton Fire Department
---
Amanda Getchell
The Daily News of Newburyport, Mass.
SEABROOK, N.H. — The Seabrook Fire Department received several commendations for their bravery and work over the last year as part of the annual Portsmouth Emergency Medical Services appreciation night.
The event, hosted in late May, recognizes department members in several categories. Seabrook was awarded EMS service of the year jointly with the Hampton Fire Department, said Fire Chief Bill Edwards. Additionally, Seabrook was honored as trauma department of the year, he said.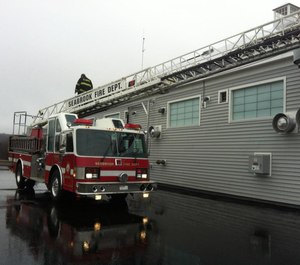 Edwards said he's humbled to share the EMS service award with Hampton Fire and Rescue.
"It goes a long way towards showing how our mutual system works, how our combined training in each department works," Edwards said.
"Chief Ayotte and EMS coordinator Nate Denio deserve a lot of credit for how well Hampton Fire performs day in and day out."
Seabrook firefighters Seth Coleman, Frank Chase, Chris Tilley, Mark Potvin, Nate Mawson, Jabe Felch and Marc Bibuad all received an award for a trauma call. Firefighters Jeremy Wright, Chris Perry, Robert Mawson, Rich Curtis, Troy Coleman and Barry Sargent were all awarded for an EMS call.
Edwards admitted the recognition is great for the department, noting its members are dedicated to serving and protecting the community.
"There is a lot of hard work that goes into training and being ready for what ever the call may be," he said. "To be recognized for that hard work and dedication is very rewarding for our entire department. We want to thank the people at Seabrook Emergency Department and Portsmouth Emergency Department for this award."
Staff writer Amanda Getchell covers Newburyport and Seabrook. Follow her on Twitter @ajgetch.
———
©2019 The Daily News of Newburyport (Newburyport, Mass.)
McClatchy-Tribune News Service